Affiliate Disclaimer
As an Amazon Affiliate, we earn from qualifying purchases.
In this post, I'll give you the low-down on the best universal remotes for Panasonic Smart TVs.
In a hurry?  Here's a summary of the best universal remotes for Panasonic Smart TVs along with my top replacement remote pick:
You can click on any of the links above to jump down to the specific remote you are looking for.
But first, let's rap.
Panasonic Platinum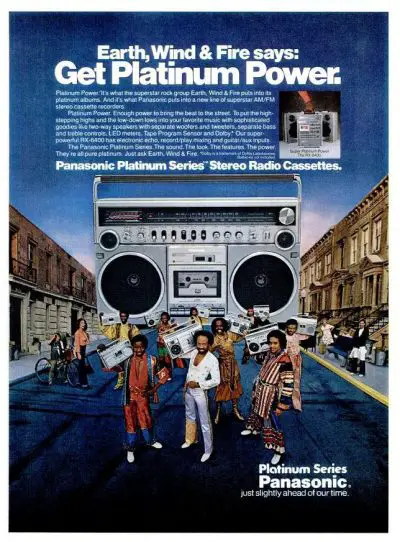 Whenever I think about Panasonic, I think about the early-80s TV commercial that was advertising a new boom box.
The commercial featured Earth Wind and Fire singing and rapping a jingle that would repeat over and over to a funky beat:
"Panasonic Plat-i-num."
"It's a Panasonic Plat-i-num."
Pan-a-sonic Plati-num.
You get the idea. LOL. Catchy and brilliant. And that boombox would make any aspiring "breakdancer" proud. If I can find the video on YouTube I will embed it below.  Hilarious!
These days I'm sure Panasonic's advertising budget is more focused on marketing its popular line of flat-screen Smart TVs. According to this report from MarketWatch, it remains one of the top seven TV brands in the world. Their line of Smart, LED, and 4K TVs deliver a crisp, vibrant picture at a budget price.
However, the remote control that comes with the TV is—how do I say this delicately—LAME. And it is very limited to controlling just your TV and nothing else. If you are here you are probably already well aware, but just in case, it looks like this.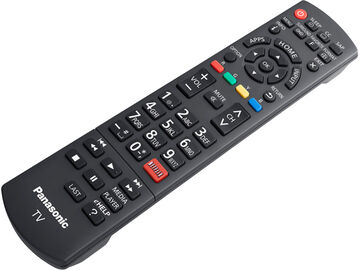 Well, don't despair my friends. I'm here to get you a stellar list of universal remotes for Panasonic Smart TVs for just about any budget.
📚 Related: 5 Best Universal Remotes for Sharp TVs
---
Budget Pick: Nettech Universal Remote
OK, it's full disclosure time. I am not in love with this remote. Then why is it first on the list, you ask?  Well, some of you will want to replace that existing Pansonic remote on the cheap, and this will let you do that. What it won't let you do is consolidate the other devices in your entertainment center.  And it definitely won't let you control your smart devices or create routines like the other remotes featured here.
However, if you just want a replacement remote for your Pansonic TV remote, this will do the job just fine. I hope you will read on for some superior options though.
Nettech Universal Remote Control Compatible Replacement for All Panasonic TV/Viera Link/HDTV/ 3D/ LCD/LED - 1 Year Warranty
Panasonic N2QAYB000485 Universal Remote Control for All Panasonic BRAND TV, Smart TV, LED/LCD TV, Full function
work with almost all Panasonic LCD/ LED TV Smart TV, Perfect for everyone (Kids, Adults, Seniors, etc), Perfect For Panasonic TV Remote
USA Seller, quick shipping! free exchange or return shipping! 30 days free quality warranty! Guaranteed working for Panasonic TV, 1 year warranty!
Panasonic TC46PGT24, Panasonic TCP42G25, Panasonic TCP42GT25 Panasonic TCP46G25, Panasonic TCP50G20, Panasonic TCP50G25, Panasonic TCP50GT2 And more
Last update on 2022-05-04 / Affiliate links / Images from Amazon Product Advertising API
---
Best for Entertainment: Harmony 665
Logitech Harmony 665 is a great universal remote that will let you consolidate up to eight home entertainment devices down to one.  With all Harmony remotes, you get access to Logitech's vast database that supports over 270,000 devices. This means that the devices you own are almost definitely supported. In addition to your Panasonic Smart TV, you can control stuff like your cable or satellite TV box, soundbars, surround sound set up, A/V receivers, streaming media players like Roku or Apple TV, and much more. The Harmony 650 will not let you control smart home devices like smart lights, blinds, and thermostats, however.
Still, if you just want to control your home theater setup, this is a great way to go.  You can also program up to 23 Favorite channels which makes getting to your favorite programming a snap.
Logitech Harmony 665 Advanced Remote Control (Renewed)
No need for multiple remotes or remembering what to turn on or which input setting to use. Just press one button and Harmony does it all for you.
Say goodbye to that jumble of remotes once and for all. Combine up to 10 old-fashioned remotes into one.
Go directly to the shows, movies, and music you love with 23 customizable channel favorites.
If things get off track, on-screen help will walk you through the steps to get everything working again.
Harmony does the setup work for you. There are no confusing button combinations to press or codes to enter. Get to using your remote faster, with less frustration.
Last update on 2022-04-30 / Affiliate links / Images from Amazon Product Advertising API
Thanks to Erin from Best Buy Canada for this helpful video review of the 665:
You can also read My Full Review of Harmony 665 here.
---
Best Smartphone Remote: Harmony Hub
If you want to control up to eight home entertainment and smart devices using your smartphone or tablet, the Harmony Hub is the best option out there.  It gives you nearly all of the functionality of the Harmony Elite and Companion described below, albeit without the remote.
You can program one-tap activities like "Watch A Movie" and the Harmony Hub will automatically fire up multiple devices at the same time. For example, your Watch a Movie activity can automatically turn on your Panasonic Smart TV, plus turn on your favorite streaming player, set it to your favorite service (like Netflix or Amazon Prime), dim and change the color of your smart lights, lower smart blinds, and more. The one caveat is that there is no physical remote, so if you like the idea of using a physical remote, check out the last two products below. The phone is, of course, sold separately.
Logitech Harmony Hub for Control of 8 Home Entertainment Devices
Works with Alexa to easily control your home entertainment devices with your voice
Combine up to 8 remotes and countless apps into one easy-to-use smartphone app.
Create customized activities to control your home entertainment. For example, simply tap "Date Night" and Harmony can turn on your Sony Android TV, launch Netflix, dim your Philips Hue smart lights and turn on your Sonos connected speaker
Harmony App for iOS or Android smartphone or tablet: Simply swipe and tap to control channels, movies, 50 customizable channel Favorites
Closed cabinet control: Included Harmony Hub lets you control devices in closed cabinets
Last update on 2022-04-26 / Affiliate links / Images from Amazon Product Advertising API
You can also read my full Harmony Hub Review.
---
Budget All-in-One Option: Harmony Companion
Harmony Companion gives you all of the benefits of the Harmony Hub, and it includes a nice physical remote.  You can also control up to eight devices with the Harmony Companion, including both home entertainment and smart devices too.  It will even work with Amazon Alexa for voice control to do things like turn on the TV and even tune to your Favorite stations and services. In addition, you get the same Harmony mobile app that comes with the Hub, so family members can each have their own personalized remote on their mobile devices.
This really is a great value for the money, and it is a much better remote than the one that came with your Panasonic Smart TV. All Harmony remotes are compatible with iOS/Android and Mac/PC computers for set up, although I recommend setting them up with your computer and not your phone.
Logitech Harmony Companion All in One Remote Control for Smart Home and Entertainment Devices, Hub & App, Works With Alexa – Black
Works with Alexa for voice control. Performs activities like Lower the blinds, dim the lights, fire-up the TV for movie night—all with a tap of the finger.
Use your Smartphone (with available app) or included Harmony Remote for one-touch control of your entertainment system and home automation devices such as Philips Hue lights or Nest Learning Thermostat
Companion remote includes full featured home entertainment controls including dedicated home automation controls
Included Harmony Hub lets you control devices hidden behind cabinet doors or walls, including game consoles such as PS3, Wii, and Xbox 360
Simple setup on computer or the available smartphone app – works with over 270,000 devices, including your TV, satellite or cable box, blu-ray player, Apple TV, Roku, Sonos, game consoles, Philips Hue lights, and more
Last update on 2022-04-26 / Affiliate links / Images from Amazon Product Advertising API
Ready my full Review of Harmony Companion here.
---
Premium All-One Pick: Logitech Harmony Elite
The Harmony Elite is the Rolls Royce of universal remotes.  It remains my Favorite top pick for a variety of reasons. First, you get to control up to 15 smart home and home entertainment devices. This makes it a great choice even for today's complex setups.  Second, it has a beautiful color LCD screen. This is in addition to well-placed hard buttons on the remote itself. You can simply swipe and tap to control channels, movies, volume, 50 favorite channels, and smart devices.
You also get one-touch activities, the Harmony app for personal mobile remotes, and the ability to control devices behind cabinets in your entertainment center. Third, it works with Alexa and Google Assistant for voice control. If you want to see even more reasons why I love this remote, check out the link to my full review below. This really is the "one remote to rule them all." However, with all of this comes a fairly hefty price tag for many consumers. Still, if you are looking for the best universal remote out there, this is it. Nothing really comes close.
Logitech Harmony Elite Remote Control, Hub and App, Compatible with Alexa (Renewed)
The most powerful and intuitive Harmony remote works with Alexa for voice control. All-in-one control of up to 15 home entertainment and connected home devices
Full color touchscreen: Simply swipe and tap to control channels, movies, volume, 50 favorite channels and smart home devices like Philips Hue lights
One-touch Activities: Touch an Activity like "Watch a Movie" to automatically power on and switch devices to the right settings; Compatible with Amazon's Alexa for easy voice integration and activation
Harmony app: Turns iOS or Android smartphones or tablets into personal universal remote controls for the whole house
Last update on 2022-04-26 / Affiliate links / Images from Amazon Product Advertising API
Undecided with Matt Ferrell gets the nerd prize for the most popular review of the Harmony Elite on YouTube:
Here's my full review of Harmony Elite if you are interested.
---
Best Universal Remotes for Panasonic Smart TVs – What Do You Think?
So what do you think about my picks for the best universal remotes for Panasonic Smart TVs?
Are you looking to replace an existing remote? Or perhaps you want a better option for consolidating multiple remotes down to one?
Is smart home control an important consideration for you?  How about voice control using Alexa or Google?
Please leave a comment below and let me know your thoughts. I would love to hear from you.
In the meantime, enjoy this funk-a-delic throwback to the days of Panasonic Plat-i-num. LOL.
---
Related Links
If you enjoyed this post about the best remotes for Panasonic TVs, you might also like:
Logitech Harmony Comparison Chart: Epic Guide/Infographic
Harmony Elite Review: 10 Reasons This Remote Rocks
Logitech Harmony Elite vs Ultimate One: Updated Comparison
Harmony Companion Review [and Comparison vs Smart Control]
Logitech Harmony Hub vs Elite [Review and Comparison]