Affiliate Disclaimer
As an Amazon Affiliate, we earn from qualifying purchases.
In this post, I promise to do my best to share everything you need to know about all the GE Universal Remote codes for LG TVs.
---
When Your GE Remote Codes Go Missing
U
niversal remotes are amazing devices that can be nothing short of magical. They help to reduce clutter on your coffee table, and today you can use a single remote to control many of your devices.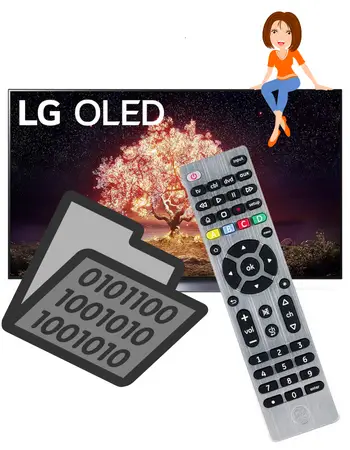 While not my favorite, one of the most affordable remotes out there is the GE Universal Remote Control. This is a very popular remote and it works perfectly with virtually any LG TV on the market. It's also compatible with other entertainment equipment like DVD players, soundbars, AV receivers, etc.
If you want to see some cooler options, check out this post I wrote on the best universal remotes for LG TVs. You can also control your LG TVs using an app.
While traditional IR-based universal remotes like the GE remote can get the job done, they also come with the minor inconvenience of dealing with "codes" to allow control of certain devices. This is almost certainly true of your LG TV.
If you have used a traditional universal remote, then you know the drill: you need to go through the document to figure out the right remote codes for your LG TV. If you're like me and you a.) lost the documentation or b.) hate the idea of reading a tiny manual with fine print, you can simply look up the codes here.
Don't worry. I've got you covered and can hopefully save you the pain of reviewing the documentation. I'll also throw in some of the basic instructions for your remote.
But first, let me get you those codes.
---
List of GE Remote Codes for LG TVs
Similar to other GE universal remote codes, the list of GE Remote codes for LG TVs are four digits that correspond to a particular model. So, codes can be totally different between two LG TV models.
However, some base-level codes work with most LG TVs, so I recommend that you try these first.
The base level codes for the GE Universal Remote are:
0004
0050
0009
0005
0227
0338
0012
0057
0080
0156
These may be all the codes you need to program your LG TV with your GE universal remote. If the first one doesn't work out, slowly work your way down the list to find one that will pair your remote with your TV.
📚 Related: GE Remote Codes List (All TVs)
If none of these work then you need to figure out which code list version you need. See the next section.
How Do I Find My LG TV Code List?
Finding out the code that you need is quite simple. All you need to do is flip over your universal remote to open the battery compartment. Inside, look for a sticker that contains the Mode and Code list version.
There are three code list versions to expect. Check whether you have CL3, CL4, or CL5.
Wikihow has a nice step-by-step guide with pictures that explains how to do this in detail.
If the base-level codes above didn't work, next, you should try the ones that match the code list for your specific GE Universal Remote (it will specify CL3, CL4, or CL5 in the battery compartment.

LG TV Model

GE Universal Remote Codes

GE Universal Remote Codes for LG TV (CL3)

3091,

1181,

1911,

0611,

0001,

3021,

1471,

0131,

5501,

5511,

0761,

3311,

0251,

3811,

4731,

5271,

3221,

3281,

1221,

0931,

3001,

1501

GE Universal Remote Codes for LG TV (CL4)

1221,

3001,

5511,

0001,

1911,

6021,

1181

GE Universal Remote Codes for LG TV (CL5)

6021,

0001,

5511,

3001,

1911,

1181,

1221


GE Universal Remote Codes for LG Smart TVs


0156,

0338,

0004,

0227,

0005,

0080,

0012,

0050,

0009,

0057

---
How to Enter Your Remote Code for Your LG TV
Once you have it programmed, using your GE universal remote is just like any regular remote control. There's nothing fancy except that you need to set it up to work with multiple devices.
The good news is that you don't need to know anything about programming or electronics to get it working. As long as you know the remote codes for each device, the process is pretty much the same to connect them as the one for your LG TV.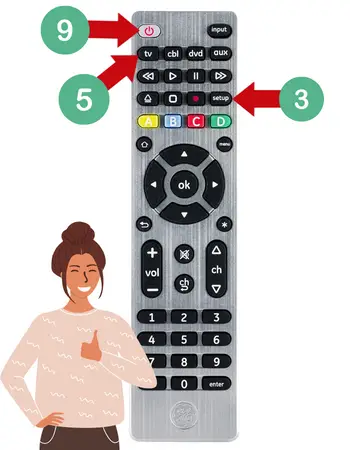 Follow the step-by-step instructions below to program your GE remote to your LG TV:
Locate the remote code category for your LG TV.
Switch on your LG TV.
Press and hold the Setup button.
Wait for the LED indicator to light up red.
Press the Device button on your remote (TV button).
Type in the first code on the list using the keypad.
If you type in the right code, the red LED light will turn off.
Hold your remote in front of your LG TV.
Press the Power button.
If the TV turns off, you have the right code. Simply press it again to your TV back on.
If it doesn't turn off, try another code on the list.
Once you have found the right code, you can test the rest of the buttons to confirm everything is working properly.
That's it! That's everything you need to do to program your universal remote to your LG TV.
---
FAQs
In this section, I'll address some common questions that people ask when trying to program the GE remote to their LG TVs.
Will the Codes Work Right Away?
For the most part, the topmost code is the most popular and should work immediately. If it doesn't, the good thing is there are a ton of other remote codes to choose from. All you need to do is work your way down the list until you find one that works.

However, there are also instances when it's not a code issue. Check your remote's batteries, as using weak batteries can cause malfunctions with programming. The remote can stop working since it's not getting enough power.
Another issue you may face is interference via physical barriers. The signal from your GE remote can easily be blocked by different household objects. Make sure there's a clear line of sight between your remote and TV at all times.
What If None of the Codes Work?
It's not necessarily "game over" if none of the codes listed above works for your LG TV. Your GE universal remote control has multiple codes stored in its memory, and you can direct it to find out which one works with your LG TV.
Here's how to automatically program your GE remote:
Make sure your LG TV is powered on.
Press and hold the Setup button on your remote until the red LED light comes on.
Press the TV button on your remote.
Wait for the red LED light to flash once.
Point the remote at your TV and press the Power button.
Your remote will automatically test codes for your TV.
Repeat this step until your TV turns off.
When it turns off, turn it on again.
Point the remote to your TV and press the Volume Up
Wait for your TV to turn off.
If it does, press the TV button to confirm the use of the code.
Turn on your TV and test all the buttons.
Resetting Your GE Universal Remote (Factory Reset)
It is unlikely but you may run into an issue where nothing really works. However, temporary malfunctions and issues can occur, and a good reset may be your best troubleshooting option.
Here's how to reset your GE universal remote control back to factory settings:
Press and hold the Setup button on your remote.
Wait for the red LED light to turn on.
Release the Setup button. The light must remain on.
Press the Mute button.
Press the Zero button.
If the red LED light flashes twice, your remote is successfully reset.
📖 Related: GE Remote Codes for Insignia TVs
---
Conclusion

There you go! I hope this is all the information you needed to get all of the GE remote codes for your LG TV and that you were able to get it connected and working smoothly.
You should be able to find the right code for your TV. Don't worry if it doesn't work right away. Take it slow and try out each code carefully so you don't miss it.
When you find the right code for your TV, I recommend writing it down so you have this information ready if you need it again.
So, what are you waiting for? Go ahead and set up your universal remote so you can start navigating your favorite shows using your GE remote and LG TV.
If this worked for you, please social share using the colorful buttons below, as it might help someone else too.
Enjoy your LG TV!
📖 Related: GE Remote Codes for Samsung TVs or Sony TVs