Affiliate Disclaimer
As an Amazon Affiliate, we earn from qualifying purchases.
In this review, I am proud to present you with the five best remotes for Philips TVs you can get right now. I will include universal remote options as well as OEM options to replace your existing remote in the event you are in love with it ?.
Without further ado, here are my picks for the five best universal remotes for Philips TVs:
Let's get you a remote!
---
Philips' Remote Is OK But It's Not Universal
I
am a big fan of Philips Hue bulbs. This is despite that my fellow tech reviewers and YouTubers like
Paul Hibbert
say that the
Philips company
has thirst for "corporate greed."
That aside, the bulbs just work more consistently than other smart bulbs I have tried. I have written several blog posts about Philips Hue smart bulbs over at my smart home blog www.oneSmartcrib.com
This got me thinking….."I wonder if Philips' line of TVs is as good as their bulbs." And judging from numerous fans of these TVs, the answer seems to be a resounding yes!"
One thing, however that many Philips TV customers seem to share in common is a disdain for the remote that may have come with your Philips TV. It looks like this:

I don't hate it if I am being honest. The dedicated buttons for the Netflix and YouTube apps on the Philips TV are nice. Why they specifically chose Vudu and Google Play instead of more popular services probably has something to do with that "corporate greed" that Paul talks about.
But I digress.
The main problem with this remote is that it is limited to controlling your Philips TV and a few other devices, maybe.
📚Related: 7 Best Remotes for Element TVs
---
Do Universal Remotes Work with Philips?
OK, if you made it this far, you already know that the answer to this question is yes!
Well, friends, I am here to help you replace that remote with a bonafide universal remote that will let you control all of the equipment in your home theater.
Side note: If all you want to do is replace said remote above, it will make me sad. BUT I'll show you where you can pick up one of those babies as well.
Full disclosure: I don't own a Philips TV, but I have written enough about universal remotes (over 120 articles!) to feel very secure in these recommendations. Let's kick things off with a side-by-side comparison of my top 3 picks.
Ok, let's get into this.
---
Best Remotes for Philips TVs: Comparison Chart
The following table provides a side-by-side comparison of key features of my top three picks for best remotes for Philips TVs of the universal variety. I will include a separate table near the end of this post with my OEM replacement remote picks for various popular TV models.
Product
Logitech Harmony Companion
Key Features
Works with Alexa for voice control, Use your Smartphone, one-touch control of your entertainment system
OLED screen and it supports 500,000+ devices from 6000+ brands
Hard button remote, Mobile App, Alexa and Google Assistant, Activities like Listen to Music
Key Features
Works with Alexa for voice control, Use your Smartphone, one-touch control of your entertainment system
Key Features
OLED screen and it supports 500,000+ devices from 6000+ brands
Product
Logitech Harmony Companion
Key Features
Hard button remote, Mobile App, Alexa and Google Assistant, Activities like Listen to Music
Last update on 2022-04-26 / Affiliate links / Images from Amazon Product Advertising API
Note: Prices are pulled in from the Amazon API and are current as of the date and time at the bottom of this table. Click the orange button to see the latest price and get more details at Amazon.
---
#1 – Best Value – Inteset 4-in-1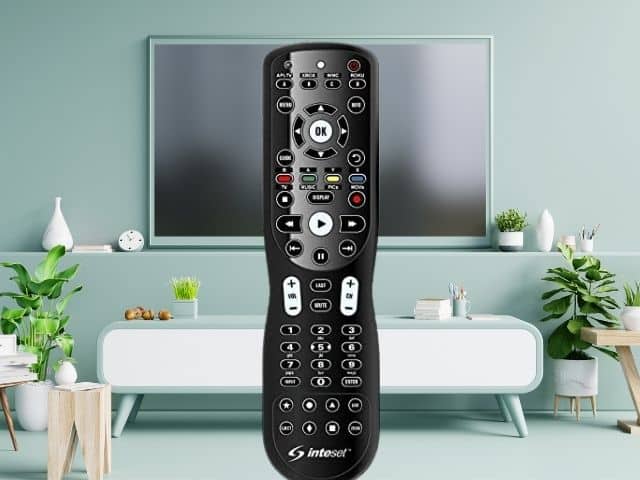 With Logitech's recent announcement that they will no longer be manufacturing new remotes, I am confident about promoting this remote from Inteset as a solid Harmony alternative.
First, it's affordable. Second, it works as advertised: you will need to enter remote codes but once you do ease of use is the order of the day. Third, it has all the features you would expect in a multi-device remote, including backlit buttons which come in handy when using the remote in the dark. In addition to Philips TVs, you can also use this remote control to control your dvd players, Blu-ray player, sound system, as well as other televisions from major brands including Samsung TVs.
The only drawback with this remote is that you are limited to control of just four devices. It does however perform well up against more premium remotes such as the Harmony Companion. Oh, and you can't use it to control smart home devices or game consoles. Check out these Harmony remotes if you want to do that.
Inteset 4-in-1 Universal Backlit Remote & IReTV IR Receiver Combo. for Streamers That Have no IR Receiver Built in, Including F-TV, Nvidia Shield (2nd Gen), Kodi, MCE and Many Other A/V Devices
Device Codes using the IReTV IR Receiver are: Kodi-02000, Fire TV-02049 (Fire-TV devices require a "Y" Cable), Media Center-01272 & Nvidia Shield (2nd Gen)-04918. These codes only work when the IReTV is used with this remote. Contact us for information about the "Y" Cable and a set-up diagram.
Pre-programmed for Apple TV, XBox One, Media Center and Roku device codes which are easily changed. Full LED Backlighting-All buttons.
Macro Programming-This allows the programming of a string of commands (up to 15) within a mode or mode independent. You can also program Volume Lock, Channel Lock & ID Lock.
Button Labels- These self-adhesive labels, as pictured, can be cut out and applied under the buttons that you program for your device functions; Key Punch Through-Allows the user to configure the same key function in one mode into any or all other modes; Warranty: One Year Replacement for Defects.
Last update on 2022-04-26 / Affiliate links / Images from Amazon Product Advertising API
📚 Related: Logitech Harmony Elite Vs Companion
Top Ten Reviews has a decent video reviewing the Inteset remote out on YouTube.
---
#2 – Most Versatile: Sofabaton U1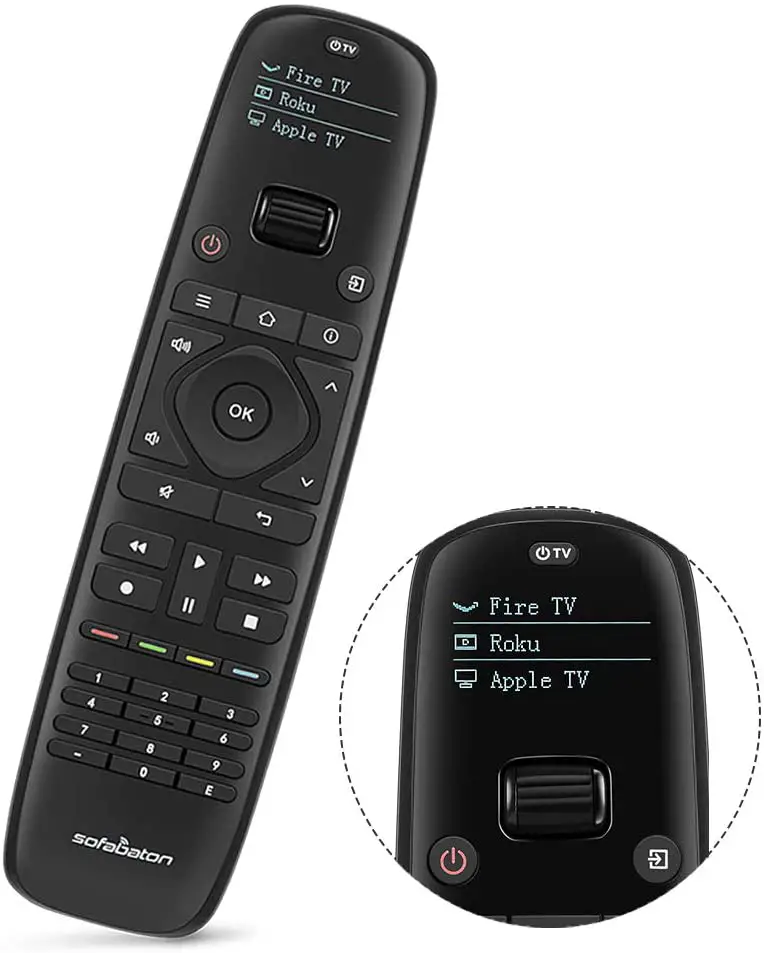 Next on my list of the best universal remotes for Philips TVs is the Sofabaton U1. It doesn't just work with your Philips smart TV, but you can also use it to control other devices like a DVD player, Apple TV, Roku, Firestick, Kodi boxes, and more which makes it very versatile.
It lets you control up to 15 different devices, has a nice ergonomic design, and it's got a smooth surface that feels good in your hand.
On top of all that, it has four customizable color remote buttons along the bottom of the remote. Devices are set up using direct code entry and those colored buttons can be programmed using macros to launch specific devices or a series of commands. The Sofabaton U1 even has a smartphone app you can run on your mobile device for another method of control. No voice controls are available via Alexa or Google as of yet though.
Sale
Updated SofaBaton U1 Universal Remote with OLED Display and Smartphone APP, All in One Universal Remote Control for up to 15 Entertainment Devices, Compatible with Smart TVs/DVD/STB/Projector so on
✅【U1 Universal Remote & Replaces 15 Other Remotes】Our unique remote control support 500,000+ devices from 6000+ brands, the database will update as new devices come out, you don't need to worry about the newest device doesn't match. Both compatible both IR and Blutooth, Not support Wireless or Wifi (Such as Ruku Stick). Say goodbye to that jumble of remotes once and for all
📲【App One-Touch Set Up】SofaBaton customized smartphone APP, one-button settings, no need to enter complex code to pair. Simple control for the whole house only by one remote, ditch all your complex remotes, just one remote for you. Compatible with / Ruku/ Kodi and other smart TV、STB 、Projector、DVD、AV Receiver and so on
📺【OLED Display & Motion-Activated Function】The bright color OLED screen directly displays the current status and convenient for switching different devices. The motion-activated feature can automatically adjust the remote control brightness and save energy to gain longer battery life. A unique wheel design can easily switch devices just with a simple scroll. You must own this universal U1 remote!!!
🔝【Multiple Commands by One Macro Button】With one macro button push, it can output multiple commands. How excited when you just press a button and it can implement a series of operations one or between different remotes. And you can also customize the start time, for example, if you want to open your TV firstly and then turn on your set-top box after 5 seconds
Last update on 2022-04-26 / Affiliate links / Images from Amazon Product Advertising API
📚 Related: Sofabaton Vs Harmony: A Solid Logitech Alternative?
YouTube Video credit: OSReviews
---
#3 – Premium Pick: Harmony Elite
I own the Harmony Elite. I use it every day to control my Samsung TV and my smart home and I love it. While setup can be a bit involved for the non-tech set depending on what you want to do, the Elite can be programmed to control just about anything out there. Your Philips TV, DVD player, set-top box, av receiver, audio surround sound setup, streaming media players, and many smart home devices can all be controlled using this remote.
It truly has all the functionality you could need. This includes voice commands with Amazon Alexa and Google Assistant, automatic detection of devices, control over most media player functions, Apple and Android TV control as well as Amazon Fire TV. Unlike its universal TV control rivals, it also has a color LCD touch screen, and a nice navigation pad.
A separate smartphone application runs on iOS or Android and the mobile app in effect gives everyone in your house their own remote completely free.
Logitech Harmony Elite Remote Control, Hub and App
The most powerful and intuitive Harmony remote works with Alexa for voice control. All-in-one control of up to 15 home entertainment and connected home devices
Full color touchscreen: Simply swipe and tap to control channels, movies, volume, 50 favorite channels and smart home devices like Philips Hue lights
One-touch Activities: Touch an Activity like "Watch a Movie" to automatically power on and switch devices to the right settings; Compatible with Amazon's Alexa for easy voice integration and activation
Harmony app: Turns iOS or Android smartphones or tablets into personal universal remote controls for the whole house
Closed cabinet control: Included Harmony Hub lets you control devices in closed cabinets, or even when away from home
Last update on 2022-04-26 / Affiliate links / Images from Amazon Product Advertising API
Note: Smart home integration requires that you put the remote on the same wifi network as your other devices.
📚 Related: Harmony Elite: 10 Reasons This Remote Rocks
TeQreation has one of my favorite Harmony Elite reviews out on YouTube.
---
#4 – Hub and App: Broadlink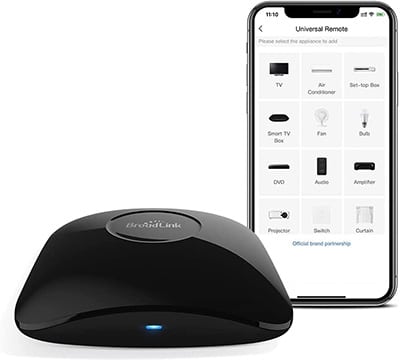 You might be wondering: can I just use my smartphone as a Philips TV remote. The answer is yes, thanks to Broadlink's universal remote hub and app.
The best thing about this remote control is that you can control almost any device from almost anywhere with your smartphone as long as you have a data connection (e.g., via your home network). The only drawback compared to something like the Harmony Hub is that it won't learn IR commands directly from your remote, so setup takes a little more effort to set up and it won't work for every device.
However, the virtual remote control application will run on iOS and Android and it has a super intuitive interface with a ton of functions.
Broadlink RM4 pro IR RF WiFi Universal Remote Smart Home Automation Compatible with Alexa and Google Home
Support RF (433MHz+315MHz) controlled devices such as curtain/shades motor, projector and light switch; Support 50,000+ IR controlled devices such as TV, STB, Air conditioner, Fan, Video Recorder, DVD and more; Does not work with Bluetooth. Supported devices library is constantly being updated by the cloud, so your RM4 pro is always compatible with newer devices. Option to program your devices and learn buttons if certain cloud data is unavailable.
NEW BROADLINK APP CONTROL - New App named BroadLink is available now in Apple App Store and Google Play. New App has better user experiences in configuration and creating scene than IHC. Besides, if you have an Android phone integrates IR emitter itself, you can use it to control your IR devices from BroadLink App as a test, before you decide to buy our product. Note: RM4 pro only supports 2.4 GHz (NOT 5 GHz) Wi-Fi to configure in the App
VOICE CONTROL AND IFTTT - Compatible with Alexa to voice control your TV, STB, Air Conditioner and Fans, compatible with Google Home to voice control your Air Conditioner. Make sure the devices can be remotely controlled from external networks. In Amazon Alexa/Google Home/IFTTT Apps, enable the skill/service named BroadLink, link account and discover devices.
NEW FEATURES - Supports external Temperature and Humidity Sensor USB Cable (purchase separately), connect it to the RM4 pro, BroadLink App will show room?s temperature and humidity. Zero Configuration, powered by FastCon technology, add the first FastCon device to the App as usual, after that, when you power on other new FastCon devices, they will be automatically discovered and shown in App.
TECH SUPPORT - One-Year Warranty, 24/7 Technical Support. Video Guide are available on our Amazon Brand Store page and YouTube. Find our Global Hotline on product manual. Now you can get help and make feedback directly through BroadLink Community in the App.
Last update on 2022-04-26 / Affiliate links / Images from Amazon Product Advertising API
---
#5 – Budget Choice: Philips OEM
Last on my list of best remotes for Philips TVs is the budget OEM "replacement" option. These remotes essentially mimick the same remote that came with your TV.
I realize that some of you may just be looking to replace your existing Philips remote control. While your smart TV functions (for example, changing channels, adjusting the volume control, etc.) will be nearly identical to the standard remote control. You won't be able to control other devices or your smart home though with this option.
The following table provides links to official Philips product OEM replacement remote controls:
Table setup not completed.
---
Can I Download a Virtual Remote Control for a Philips TV?
Yes, in addition to Broadlink there are many other universal remote app options. These include Logitech Harmony Hub and many other remote control apps.
PhilRemote is another virtual remote control app that allows you to control a Philips television. The application works on any TV with an "intelligent screen display" technology. The TV must also be connected to your Wi-Fi/ Ethernet network.
After you get the remote control app set up on your home network, the remote control interface has an intuitive design and the most useful commands have been installed. You can adjust the volume and change channels using the app, of course, and the button navigation control is also well done.
---
Conclusion
While the remote that comes with Philips TVs isn't all that bad in my opinion, it is limiting in that it only lets you control your TV. This adds one more remote to the remotes cluttering up your coffee table.
By choosing a universal remote, you can consolidate down multiple remotes into just one and potentially even control your smart devices as well as a home theater. One option here, the Harmony Elite, will also let you control your TV with your voice.
If you want a solid universal remote for your Philips TV at an affordable price, both Inteset and Sofabaton are good options.
I hope you found this article about the best remotes for Philips TVs helpful. Please leave me a comment below if you have any questions on anything here. Enjoy your Philips TV!
📚 Related: 8 Best Remotes for Emerson TVs