Fire TV Cube Specs [2nd Gen Cube]: In 2019, Amazon announced a significant upgrade to its Fire TV Cube. This is the latest model of the Cube (available here). In this spec sheet, I provide complete details for the 2nd Gen Cube including hardware specs, technology, features, compatibility, dimensions, supported audio and video formats, and more.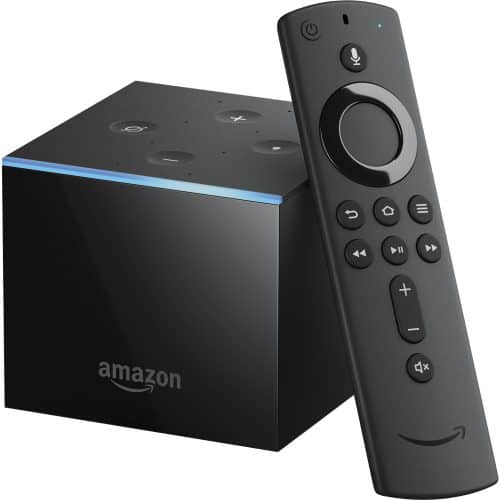 If you are interested in specifications for the 1st-Gen Cube, check this page.
  You can also read my review comparing the two: Fire TV Cube 1st Gen vs 2nd Gen vs 3rd Gen.
---
Fire TV Cube Specs: 2nd Gen Cube Hardware
Here are the major hardware specifications of the 2nd Gen Amazon Fire TV Cube:
| Fire TV Specs | Description |
| --- | --- |
| Popular Streaming Services | Netflix, YouTube, Prime Video, Tubi, IMDb TV, and many others. |
| Max Resolution | 2160p, 1080p and 720p up to 60 fps |
| CPU | Hexa-core (Quad-core at up to 2.2GHz + Dual-core at up to 1.9GHz |
| GPU | ARM Mali G52-MP6, 800MHz |
| Storage | 16 GB internal |
| Memory [RAM] | 2 GB |
| Content Formats | Video: Dolby Vision, HDR 10, HDR10+, HLG, H.265, H.264, VP9 Audio: AAC-LC, AC3, eAC3 (Dolby Digital Plus), FLAC, MP3, PCM/Wave, Vorbis, Dolby Atmos (EC3_JOC), Photo: JPEG, PNG, GIF, BMP |
| Ports | Micro USB Port, Wired Infrared Port, HDMI Port, Power Port |
| Amazon Alexa | Yes, Full hands-free Alexa for most commands |
| Alexa to Control Smart home | Yes, works like other Echo devices even when the TV is off |
| Optional Voice Remote | Yes, Supports Bluetooth and infrared, requires 2 AAA batteries (included) |
| Wi-Fi Connectivity | Dual-band, dual-antenna Wi-Fi (MIMO) for faster streaming and fewer dropped connections than standard Wi-Fi. Supports 802.11a/b/g/n/ac Wi-Fi networks. |
| Ethernet | Yes, port included |
| Bluetooth | Bluetooth 5.0 + LE. Pair with compatible Bluetooth speakers, headphones, video game controllers, and more. |
| Operating System | Fire OS 6 (Android 7.1) |
| Mic On/Off for Privacy | Yes |
You can see additional specifications on the Amazon product page.
---
What is the FireTV Cube?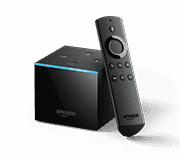 The FireTV Cube 2nd Gen combines the best of Amazon 4K FireTV, and an Alexa remote to control your TV and streaming media experience with Alexa. The new Cube adds some sweet hardware upgrades over the 1st-Gen Cube. These include a faster Amlogic S922z Quad-Core processor at up to 2.2GHz and an improved graphics processing unit, the ARM Mali G52-MP6, 800MHz.
---
Quick Compatibility Guide
For a detailed compatibility list, see Amazon's Device Compatibility for Fire TV Cube page.
System Requirements
Here are the minimum system requirements for the 2nd Gen Cube from Amazon:
High-definition television with available high-speed HDMI input, high-speed internet connection via Wi-Fi or inbox Ethernet accessory, a power outlet, (compatible TV/sound/cable equipment for control by infrared or voice).
High-speed HDMI cable and 4K TV with high-speed HDMI connector required for 4K viewing and more reliable device control.
TV Compatibility
Same for TV Compatibility requirements – taken verbatim from Amazon:
TV must support minimum HDCP requirements for protected content playback. Compatible with 1) 4K ultra-high-definition TVs with HDMI capable of 2160p at 24/25/30/50/60 Hz and HDCP 2.2 or 2) high-definition TVs with HDMI capable of 1080p or 720p at 50/60 Hz.
See the link above for more detailed compatibility information.
Voice Control
Fire TV will let you control the most popular
TVs
Soundbars
Cable boxes
Satellite TV boxes
A/V receivers
---
Product Dimensions
The dimensions of the 2nd Gen Cube are identical to the 1st Gen.
| | |
| --- | --- |
| Height | 3.4" (86.1 mm) |
| Width | 3.4" (86.1 mm) |
| Depth | 3.0" (76.9 mm) |
| Weight | 16.4 oz (465 g) |
Here are the dimensions for the Fire TV Cube remote:
| | |
| --- | --- |
| Height | 142 mm  |
| Width | 38 mm |
| Depth | 16 mm |
| Weight | 16.4 oz (465 g) |
---
Video Review: An Early Look
What's the Box?
Here's what's included in the Fire TV Cube 2nd Generation Box
Fire TV Cube (2nd Gen)
Alexa Voice Remote (2nd Gen) and 2 AAA batteries
Power AC adapter
Quick Start Guide
Marketing Guide
Infrared (IR) extender cable
Amazon Ethernet Adapter (10/100)
---
Batteries
Requires 2 AAA Batteries for the Voice Remote.  They are included with the Fire TV Cube.
---
Warranty and Support
1-Year Limited Warranty and service included. Optional 2-Year and 3-Year Extended Warranty available for U.S. customers sold separately. Use of Fire TV is subject to the terms found here.
---
Some Alexa Limitations
According to Amazon, Alexa Calling & Messaging and Bluetooth connections to mobile phones are not currently supported on Fire TV Cube. While not supported yet, Amazon says that Fire TV Cube will support sleep timers later this year. You can use Alexa hands-free regardless of whether the TV is turned off or on.
---
Model Number
Amazon ASIN: B08XMDNVX6
---
About This Fire TV Cube Specs Sheet
As part of the due diligence in preparing our reviews for our blog, I noticed that full, detailed specs for many products in a tabular format were not available online. While the vendor and even major review sites like CNET provide limited detail, no site provides a comprehensive level of specifications datasheet detail on a single page. Our aim is to remedy this with this new format.
Please leave us a comment below and let us know what you think. If you have thoughts for improving on this format, we would love to hear those as well. Thanks!
---
Related Links