Harmony Pro Specifications Sheet Summary: In this Logitech Harmony Pro product datasheet, we provide complete specifications for the product, including hardware, technology, features, compatibility, battery specifications, and more.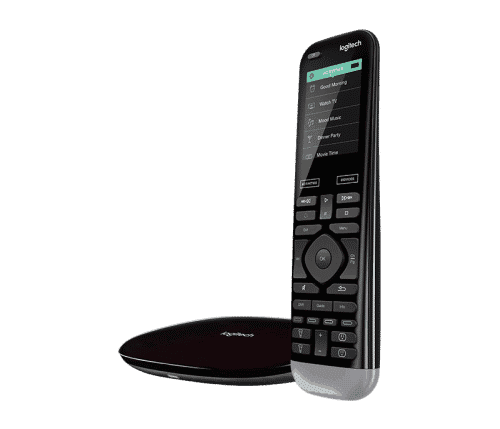 Full Review | Check Elite Price at Amazon | Find Pro Installer
What's In the Box
What's In the Box
Box Contents:
Harmony Pro Remote
Harmony Hub
Charging Station
USB Cable
2 AC Adapters
2 IR Mini Blasters
2 Precision IR Cables
8 IR Emitter Covers
User Documentation
Technology
Technology
Wireless Technology:
Bluetooth, IEEE 802.11b/g/n
Remote Control Technology:
Infrared
Input:
Keypad, Touchscreen
Software Setup:
PC/Mac/iOS/Android
Mobile App:
Harmony Mobile App
Key Features
Key Features
Device Limit:
15
Supported Devices
275,000
LCD Screen
1.5 inches (diagonal)
65,000s
128 x 128 pixels
Touchscreen Swipe and Tap
Yes
One Touch Activities (Watch a Movie)
Yes
Programmable Favorite Channels
50
Home Automation Support
Yes
Smart Speaker Support:
Amazon Alexa and Google Home
Physical buttons:
Yes
Backlit buttons:
All buttons are backlit
Haptic Feedback [Vibrates]:
Yes
Compatibility Guide
Compatibility
Smart TV
All newer TVs, most older Smart TV models
Cable TV / Direct TV
All newer, most older
Most Video Projectors
Yes
Most A/V Receivers
Yes
Most Soundbars
Yes
Media Streamers
Apple TV
Google Chromecast
Roku
Amazon Fire TV
Smart Lights
Lutron Caséta
Phillips Hue
LIFX
Others
Smart Thermostats
Nest
Honeywell
Ecobee
Others
Video Game Consoles
Xbox
Playstation – PSP 4 requires an adapter
Wii
To check if a specific device is compatible with Harmony Elite, visit Logitech's Device Compatibility Database.
Battery Life and Type
Battery
Battery Included:
Yes
Battery Type:
Lithium Ion Rechargable
Battery Life:
3-7 days without recharging
Battery Rechargable:
Yes
Battery Replaceable:
No
Service and Support
Service and Support
Warranty Type:
Limited
Warranty Period:
1 Year [or 2 Years for Elite Pro]
Support:
Toll-free phone and email support is available for a limited period after the initial setup of your Harmony. Complete support for all current Harmony products is available online. Harmony team members and other Harmony customers regularly answer questions and share experiences in active community forums.
Manufacturer Information
| General | |
| --- | --- |
| Manufacturer: | Logitech |
| Manufacturer Website: | https://www.logitech.com |
Full Product Dimensions [Remote, Hub, Blasters]
Product Dimensions
Remote Width:
2.13in (54mm)
Remote Depth/Length:
1.14in (29mm)
Remote Height:
7.56in (192mm)
Remote Weight:
5.78oz (163.8g)
Hub Width:
4.07in (103.3mm)
Hub Depth/Length:
4.91in (124.7mm) cable: 5.4ft (1.6m)
Hub Height:
1.05in (26.5mm)
Hub Weight:
112g
(3.95oz)
IR mini blaster Width:
1.4in (35mm)
IR Mini Blaster Depth /Length
0.91in (23mm)
cable: 8.3ft (2.54m)
IR Mini Blaster Height:
0.5in (12mm)
IR Mini Blaster Weight:
1.2oz (34g)
What is Logitech Harmony Pro?
Product Overview: The Logitech Harmony Pro is Logitech's premium remote control option. It is nearly identical to Logitech's flagship Harmony Elite product in every way. The biggest difference with Pro is that it is purchased and set up by a professional installer.  Like the DIY Harmony Elite remote, it lets you control up to 15 devices that include devices in your entertainment center [even behind cabinets] as well as smart home devices. Major functions include Amazon Alexa and Google Home for voice control, climate control, one-touch entertainment activities, smart lighting control, fan and blinds control, multimedia control, and control over home security.
Model Numbers
Elite Remote: N-R0010
Harmony Hub: O-R0004
Full Review | Check Elite Price at Amazon | Find Pro Installer 
---
About the Harmony Pro Specifications Sheet
As part of the due diligence in preparing for our reviews on this and other products, we noticed that full, detailed specifications in a tabular format were unavailable online.
While the vendor and even major review sites like CNET provide limited details, no site provides a comprehensive level of specifications datasheet detail in a single page. Consequently, we aim to remedy this with this new format.
Please leave us a comment below and let us know what you think. Also, if you have thoughts on improving this format, we would love to hear those.
---
Related Links