In this article, I'll give you the lowdown on at the seven best Samsung Smart TV remotes you can get right now.
The seven best remotes for Samsung Smart TVs are:
Let's dive in and get you a Samsung remote!
---
What's the Best Remote For Samsung?
Samsung is arguably the most popular Smart TV brand in the world.
The electronics giant's top-rated 4K and high-definition TVs adorn the walls and entertainment centers of millions of homes worldwide.
However, there is a problem that all customers of these TVs face—that is, one more not-so-intuitive remote control.
Of course, this is in addition to the growing pile of remotes you already have for cable TV, audio equipment, Roku, DVR Apple TV, Amazon Fire TV, etc.
Oh, and if it breaks—or you lose it, let's say you may miss the latest episode of Stranger Things.
Bummer. And not so "smart," really.
In this post, I review the seven best Samsung Smart TV universal remotes for virtually any budget.
Some of these will allow you to control other devices in your media arsenal.  Three of them will let you control smart home devices to boot.
📚 Related: 11 Top Universal Remotes This Year
---
#1 – Editor's Choice: Sofabaton X1 Universal Remote

Now that Logitech has ghosted us, Sofabaton's X1 Remote is the one remote to rule them all. With support for over 500,000 devices and a mobile app that can function as an additional remote, this powerful little device can help consolidate up to 15 other remotes.
This includes the one that came with your Samsung Smart TV.
You can easily create custom activities like "Watch Netflix" and control your devices with just a few taps using the mobile app.
The included IR blaster means you can even control devices hidden behind closed cabinets. But even more impressive is the whopping 60 days of battery life on a single charge. My friend liked mine so much that she begged me to buy one for her and set it up. It just arrived in the box over the weekend.
Ah, nothing like a fresh remote!
It's not cheap, but if you want an outstanding remote to control all your devices and your Samsung Smart TV, go for this remote. It's half the price for a decent soundbar, but it does much more.
Top Choice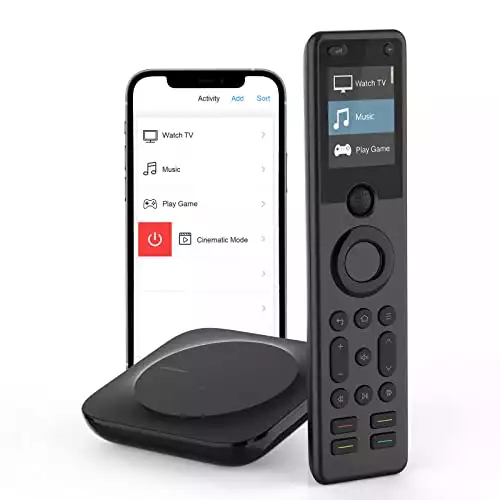 SofaBaton X1 Universal Remote Control with Hub & App
The advanced X1 universal remote comes with a hub that can control most of your home entertainment devices. The powerful database is compatible with up to 500,000 IR & Bluetooth devices, including your Samsung Smart TV, soundbar, gaming console, AV receiver, Blu-Ray player, and even Philips Hue lights and Sonos speakers.
Check Price
---
#2 – Best Voice Control: Fire TV Cube
Amazon Fire TV Cube is probably one of my favorite remote options right now. Why, you ask?  I love controlling my TV with my voice using Alexa. The new Fire OS interface is also great and probably one of the most user-friendly streaming options.  The latest Fire TV Cube also provides support for the latest streaming standards, including support for Dolby Vision, HDR, HDR10+, and Dolby Atmos audio.
Here's my Fire TV Cube perched on top of my Samsung soundbar:
I can ask Alexa to show me episodes of Umbrella Academy (nerd alert) on Netflix, and she will respond by bringing up the last episode I watched.
Here's an unboxing video that I did of my Cube a while ago. Please forgive my stammering, as this was one of my first-ever YouTube videos on my YouTube channel.
You also get all of the other benefits of Alexa, such as controlling my smart home, and the "Echo Show mode" will create a giant Echo Show on my Samsung Smart TV. Very cool.
Best Voice Control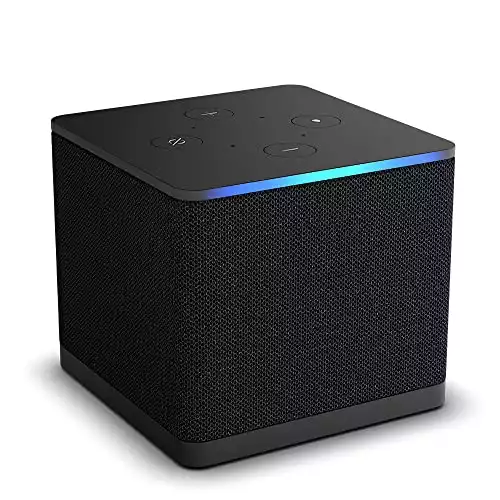 ---
#3 – Best Replacement: Samsung Factory Remote
Next on our Samsung Smart TV universal remote controls list is the official Samsung Factory Remote control that ships with many popular models. It will give you the same capabilities as the remote that shipped these TVs out of the box. However, it will not let you consolidate multiple remotes or work with your smart home devices.
This remote is compatible with the following popular SmartTV models:
UE40K6370SUXZG
UE40K6379SU
UE40K6379SUXZG
UE40KU6400
UE40KU6400UXZG
UE40KU6409UXZG
UE43KU6500
UE43KU6500UXZG
UE43KU6509U
UE43KU6509UXZG
UE49K6370SUXZG
UE49K6379
UE49K6379SUXZG
UE49KU6400
UE49KU6400UXZG
UE49KU6409UXZG
UE49KU6500
UE49KU6500UXZG
UE49KU6509
UE49KU6509UXZG
UE55K6379
UE55K6379SUXZG
UE55KU6400
UE55KU6400UXZG
UE55KU6409UXZG
UE55KU6500
UE55KU6500UXZG
UE55KU6509
UE55KU6509UXZG
UE65KU6409U
UE65KU6409UXZG
UE65KU6500
UE65KU6500UXZG
Samsung OEM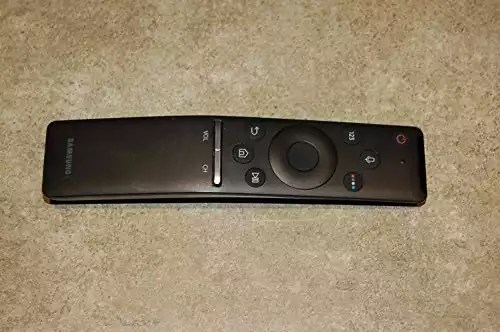 If your TV isn't on the above list, I recommend you also check out the Samsung BN59-01266A for compatibility with additional Smart TV models.
---
#4 – Harmony Alternative: Sofabaton U2
I've been testing the Sofabaton U2 universal remote control, and I'm impressed. Not only can it easily control my Samsung TV, but it can also easily manage other devices like my soundbar and streaming devices.
The U2 features a solid design with larger numbered buttons and a more responsive click. The infrared performance of the U2 has been notably improved over its predecessor, the U1, which provides better range and off-axis functionality. And, with an updated design that includes a more user-friendly battery compartment, the U2 addresses many's chief complaints with the U1. I would recommend the Sofabaton U2 as a reliable and efficient universal remote.
Kpaceguy does a nice job laying it all out in this setup and review video.
📚 Related: Sofabaton U1 vs U2
Best Budget Universal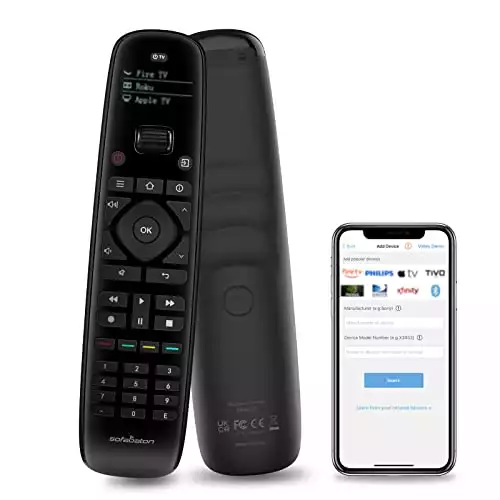 SofaBaton U2 Universal Remote
The improved Sofabaton U2 remote features a better design, more responsive buttons, enhanced infrared performance, and easier battery replacement, making it a worthy upgrade from its U1 predecessor.
Buy Now
---
#5 – Premium Pick: Logitech Harmony Elite
Rounding out my list of Samsung Smart TV remote replacement options is the granddaddy of universal remote controls. Despite Logitech's announcement last year they would no longer be making these remotes, the company says it will continue to support them "indefinitely."
The Logitech Harmony Elite is one of the best universal remote controls you can buy today. You get all of the functionality of the Companion and Hub, plus a beautiful color touchscreen remote that gives you swipe and tab abilities, haptic feedback, and customizable touchscreen buttons for activities.
Like the Sofabaton U2, the Harmony Elite controls 15 entertainment devices. All Harmony remotes are compatible with Logitech's database of 275,000 devices. Some setup is required, which can be tricky for the less tech-savvy.
You can read my review of the Harmony Elite here.
Note: Prices of the Logitech Harmony increased dramatically since Logitech announced it would stop making these.  Inventory is becoming very limited, so you should scoop one up if you want one.
Premium Pick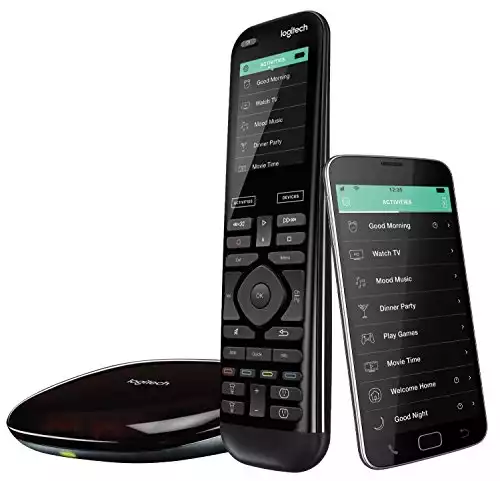 ---
#6 – Budget Option: Coolux Universal
A decent universal remote for under 10 bucks…really? Really. The Coolux Universal Remote Control was designed for "all Samsung LCD, LED, HDTV, and 3D smart TVs."  It is a standard-looking remote control with a black, gray, and red design.
The best thing about this remote is that it was designed to work with your Samsung television. There is no special pairing or setup required. The company doesn't even include instructions in the packaging. For under $10, this might sound too good to be true. However, customers overwhelmingly support this claim and give it sold ratings and reviews on Amazon. The latest Amazon customer reviews and additional specifications are at the link below.
This will not work with your smart home devices, but rather it will replace your Samsung factory remote. Note that 2 AAA batteries are not included, but what do you want for around $10?
Low-Cost Universal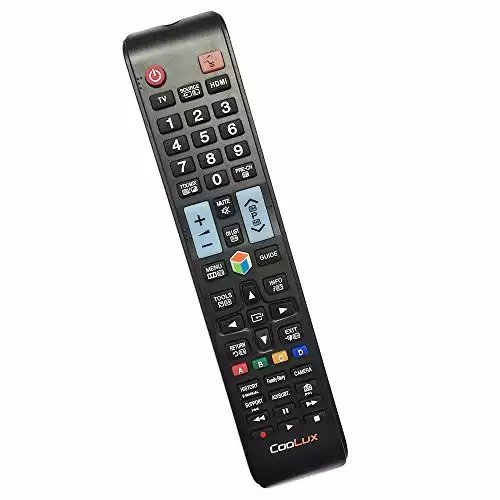 ---
#7 – Budget Upgrade: Gvirtue Universal
Another well-rated remote further up the food chain is the Gvirtue Universal Remote Control. This remote works right out of the box with most Samsung TVs, and if not directly supported by your TV model, it is easy to set up and has a learning function. Here is the list of supported Smart TVs:
UN55HU6830F
UN55HU6830FXZA
UN60H6203AF
UN60H6203AFXZA
UN65H6203AF
UN65H6203AFXZA
and more!
Compatible Remote Models are:
AA59-00666A
BN59-01178W
BN59-01199F
AA59-00638A
AA59-00637A
AA59-00594A
AA59-00600A
AA59-00582A
Another nice thing about this remote is that it has hotkeys for many of your smart TV functions. You can map the A B D C keys for Netflix, Amazon Prime, Disney+, and YouTube for example. You can also customize your a few keys.  Like the Coolux, this remote won't let you consolidate several remotes or work with smart home tech.  It was designed as a replacement for your factory remote.
A few customers have complained about the setup and pairing with a hub for TVs that are not compatible. However, most customers report the remote "just worked" with their TV. Like with the Coolux, you need to buy batteries, so I suggest having them on hand before this arrives.
---
FAQs
Q: Which universal remote is most compatible with Samsung TVs?
A: Considering the discontinuation of the Harmony line, the Sofabaton X1 stands out as the most compatible universal remote for Samsung TVs. Although it possesses fewer frills, the Sofabaton X1 provides a similar level of functionality to high-end Harmony remotes at a reduced cost. For a direct Samsung TV remote replacement, the aforementioned Samsung Remote replacement is recommended.
Q: Can any remote control operate Samsung TVs?
A: Not every remote control is compatible with Samsung TVs. However, a majority of universal remotes are capable of operating most Samsung TVs manufactured after 2016. The universal remotes suggested in this article are compatible with any contemporary Samsung Smart TV.
Q: Do all Samsung Smart TV remotes share identical features?
A: Samsung Smart TV remotes do not share identical features. Samsung usually introduces incremental improvements to their remotes, with features varying as TVs, particularly Smart TVs, evolve. Nevertheless, the latest Samsung factory remotes exhibit strong similarities, resembling the remote depicted in the introduction of this article. In contrast, universal remotes vary significantly in terms of design, functionality, and the number and variety of devices they support.
---
Samsung Smart TV Remotes: What Do You Think?
So what do you think about my picks for the best Samsung Smart TV universal remote controls?
Do you plan to purchase one of these remotes?
If so, which one?  Please let me know your thoughts by leaving a comment below.
I would love your feedback.
By the way, did you know you can also control your Samsung Smart TV using your smartphone? Check out this post on the 5 Best Remote Apps for Samsung TVs if you are interested in this option.