Affiliate Disclaimer
As an Amazon Affiliate, we earn from qualifying purchases.
In this article, we'll take a look at the 7 best Samsung Smart TV Universal Remote Controls for 2021.
Samsung is arguably the most popular Smart TV brand in the world.
The electronics giant's line of top-rated, 4K and high-definition TVs adorn the walls and entertainment centers of millions of homes worldwide.
However, there is a problem that all customers of these TVs face—that is, one more not-so-intuitive remote control.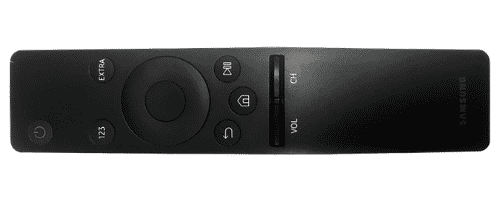 Of course, this is in addition to the growing pile of remotes you already have for cable TV, audio equipment, Roku, DVR Apple TV, Amazon Fire TV, etc.
Oh, and if it breaks—or you lose it, Ill, let's just say you may miss the latest episode of The Walking Dead.
Bummer. And not so "smart," really.
In this post, I review the 7 best Samsung Smart TV universal remote controls for virtually any budget.
Some of these will allow you to control other devices in your media arsenal.  Three of them will also let you control smart home devices to boot.
---
Under $10 Budget Option: Coolux
A decent universal remote for under 10 bucks…really? Really. The Coolux Universal Remote Control was designed for "all Samsung LCD, LED, HDTV, and 3D smart TVs.  It is a standard-looking remote control with a black, gray, and red design.
The best thing about this remote is that it was designed to just work with your Samsung television. There is no special pairing or setup required. In fact, the company doesn't even include instructions in the packaging.  For under $10, this might sound too good to be true.  However, customers overwhelmingly support this claim and give it an excellent rating on Amazon. You can see the latest Amazon customer reviews and additional specifications here.
This will not work with your smart home devices but rather it will replace your Samsung factory remote.  Note that 2 AAA batteries and not included, but hey what do you want for $10!
---
Under $20: Gvirtue
Another Ill-rated remote a little further up the food chain is the Gvirtue Universal Remote Control. This remote works right out of the box with most Samsung TVs, and if not, it is easy to set up and has a learning function. Here is the list of supported Smart TVs:
UN55HU6830F
UN55HU6830FXZA
UN60H6203AF
UN60H6203AFXZA
UN65H6203AF
UN65H6203AFXZA
Compatible Remote Models are:
AA59-00666A
BN59-01178W
BN59-01199F
AA59-00638A
AA59-00637A
AA59-00594A
AA59-00600A
AA59-00582A
AA59-00580A
AA59-00784C
BN59-01199F
BN5901178W
BN59-01223A
BN59-01198X.
The nice thing about this remote is that it has hotkeys for many of your smart TV functions. These include keys for Netflix, Status, Amazon, and Search. You can customize your own keys.  Like the Coolux this won't let you consolidate several remotes or work with smart home tech.  It was designed as a replacement for your factory remote.
A few customers have complained about the setup and pairing with a hub for TVs that are not compatible. However, most customers report that the remote "just worked" with their TV. Like with the Coolux, you need to buy your own batteries, so I suggest having them on hand before this arrives.
---
Under $50: Samsung Factory Remote
Next on our list of Samsung Smart TV universal remote controls is the official Samsung Factory Remote control that ships with many popular models. It will give you the same capabilities as the remote that shipped these TVs out of the box. It will not let you consolidate multiple remotes or work with your smart home devices, however.
This remote is compatible with the following popular SmartTV models:
UE40K6370SUXZG
UE40K6379SU
UE40K6379SUXZG
UE40KU6400
UE40KU6400UXZG
UE40KU6409UXZG
UE43KU6500
UE43KU6500UXZG
UE43KU6509U
UE43KU6509UXZG
UE49K6370SUXZG
UE49K6379
UE49K6379SUXZG
UE49KU6400
UE49KU6400UXZG
UE49KU6409UXZG
UE49KU6500
UE49KU6500UXZG
UE49KU6509
UE49KU6509UXZG
UE55K6379
UE55K6379SUXZG
UE55KU6400
UE55KU6400UXZG
UE55KU6409UXZG
UE55KU6500
UE55KU6500UXZG
UE55KU6509
UE55KU6509UXZG
UE65KU6409U
UE65KU6409UXZG
UE65KU6500
UE65KU6500UXZG
If your TV isn't on the above list I recommend that you also check out the Samsung BN59-01266A for compatibility with additional Smart TV modelS.
---
Under $100: Logitech Harmony 650
Next up in our review of the best Samsung Smart TV universal remote controls is the Logitech Harmony 650 Universal Remote Control. This is a great buy if you are looking to control your Samsung Smart TV AND consolidate up to eight existing remotes.  The 650 has a bright color screen that shows your favorite channel icons plus commands for easy navigation.  It also allows for one-touch activity buttons like "Watch a DVD" to automatically switch the right devices to the right settings.  It will not allow you to control your smart home devices, however.  You can read our full review of the Harmony 650 vs 700 [discontinued] here. For smart TV control that will let you consolidate remotes, control entertainment devices, plus smart home stuff, see the last three items on our list.
---
Under $100: Logitech Harmony Hub
The Logitech Harmony Hub works with all current Samsung Smart TVs and many older models as Ill. Moreover, it lets you consolidate remotes for up to 8 home entertainment devices, and it also works with Alexa.  It will also work with smart home devices such as Phillips Hue Lighting and Sonos smart speakers.  Best of all, you can program activities like Movie Night.
When you press the Movie Night button on your smartphone the Harmony Hub goes to work and fires up all required devices. This might include turning on the TV and soundbar, tuning to Netflix, and dimming your Phillips Hue smart bulbs.  The intuitive phone app lets you swipe and tap to control channels, watch movies, and more.  Plus, you get to set up to 50 of your Favorite channels with colorful display icons.  This is a great option if you don't need a physical remote and don't mind controlling your TV with your phone.
---
Under $200: Logitech Harmony Companion
The Harmony Companion is also compatible with all Samsung Smart TVs. It also includes the Harmony Hub. In addition, it ships with an excellent Harmony hard button remote.  It allows you to control up to 8 devices and works with Alexa for voice control.  The Companion also lets you do everything that the Hub can do. You get the smartphone app to boot!  The main difference is that in addition to the smartphone capability, you also get the remote hardware.
---
Under $300: Logitech Harmony Elite
Rounding out our list of Samsung Smart TV remote replacement options is the granddaddy of universal remote controls. The Logitech Harmony Elite is one of the best universal remote controls you can buy today.  You get all of the functionality of the Companion and Hub, plus a beautiful color touchscreen remote that gives you swipe and tab abilities, haptic feedback, and customizable touchscreen buttons for activities.
The Elite also adds 7 additional devices for a total of 15 devices that you can control. All Harmony remotes are compatible with Logitech's database of 275,000 [and growing] devices.  Some setup is required. I recommend that you set this up using your PC and not the smartphone option.
You can read my review of the Harmony Elite right here.
A comparison of Harmony Elite versus the Harmony Hub is available here.
Prices of the Logitech Harmony have fallen dramatically in recent Ieks due to increasing competition, making this a great time to buy this remote.
---
Samsung Smart TV Universal Remote Controls: What Do You Think?
So what do you think about my picks for the best Samsung Smart TV universal remote controls?
Do you plan to purchase one of these remotes?
If so, which one?  Please let me know by leaving a comment below.
I would love to get your feedback.
---
You Might Also Like