Affiliate Disclosure
As an Amazon affiliate, I earn from qualifying purchases.
Summary: In this article, we answer the question "What is a universal remote control, anyway?" A few of you asked us to provide a more thorough and up-to-date definition than other, ahem, more prominent resources on the web. We won't name any names, and we are happy to answer the call. We promise to update this with your feedback and also keep it up to date as things continue to evolve.
---
So What is A Universal Remote Control? (Our Definition)
A
universal remote control is a device that enables you to control one or more brands of consumer electronics devices. Traditionally, these devices have been used primarily relegated to television home theater and related entertainment center equipment. A secondary purpose for universal remotes has been used to consolidate multiple remotes down to a single controller. Over the past decade, universal remote capabilities have been extended to control smart home devices as well as home entertainment devices. And more recently, the technology has been evolving still further to integrate voice commands.
Getting Smarter
Led by universal remote maker Logitech and the company's Harmony family of remotes, smart remotes can now be used to control all manner of smart devices.
These include smart lights, smart locks, smart appliances, smart blinds, smart thermostats, and many more devices.
As voice assistants like Amazon Alexa and Google Assistant become more pervasive, proponents of these devices are looking to remote makers to include more robust voice control capabilities. Logitech has offered limited ability to control devices using digital assistants for some time. However, just this past week, the company launched a new Harmony Express remote that includes Amazon Alexa built right in. The user simply presses a button and then issues a voice command like Turn on the TV, Raise the Volume, tune to Netflix or YouTube and much more.
---
What Type of Universal Remotes are Available?
In general terms, there are really three classes of remotes today.
First, is the traditional IR-based remote. These are still commonplace, provided limited capabilities, and are less expensive that remotes that support other technologies. Chances are the remotes issued to you by your cable company and smart TV manufacturer use IR signals.
The second type of remote is a hub-based remote. These remotes rely on an additional piece of hardware, namely a hub, to convert signals from devices using other technologies like wifi or Bluetooth to IR signals that can be understood by the remote. The hub acts as the brains behind the operation, and therefore, it allows the remote to control more things than traditional IR remotes.
The third class of remotes is a hybrid. Hybrids typically rely on IR and/or a combination of wifi and Bluetooth mixed with a third technical solution to produce the desired results.
IR Remotes
IR remotes do not require a hub and control your IR-based devices using an infrared signal. They generally do not support Wi-fi or Bluetooth smart home devices or Alexa /Google Home. IR-based remotes can like control most devices in your entertainment center, however. They will typically require line of site [LoS] to these devices, meaning performance will degrade significantly when trying to control devices behind closed cabinets or in other rooms. A great example of an IR-based remote is the Logitech Harmony 650.
Hub or Blaster Based Remotes
Hub-based remotes work with a hub or blaster and enable control of devices using a Wi-fi or Bluetooth Signal. Generally speaking, Hub-based remotes can be used to control your smart home devices (e.g., smart lights, thermostats, blinds, other hubs, etc.) as well as the devices in your entertainment center. Hub-based products are also typically compatible with smart speakers like Amazon Alexa and Google Home, while standalone IR remotes cannot communicate with them at all. Some examples of hub-based remotes are Logitech Harmony Elite, Harmony Companion (shown below), and Harmony Smart Control. The best example of a blaster-based remote is Logitech's new Harmony's Express product (you can read our review on the Harmony Express here).
Hybrid Remotes
Hybrid universal remotes typically rely on a combination of hardware and software to get the job done. Caavo Control Center is an excellent example of a hybrid solution. While the remote itself is, of course, wireless, the Caavo's Control Center relies on a hardwired HDMI connection to its HDMI switch for all devices that you want to control.
---
Have Universal Remote Controls Evolved?
A Bit of History
According to Wikipedia, Phillips introduced the first universal remote (U.S. Pat. #4774511) in 1985, Robin Rumbolt, William "Russ" McIntyre, and Larry Goodson were among the inventors. In 1987, the first programmable universal remote control, the "CORE," was created by CL 9, a startup founded by Steve Wozniak, the inventor of the Apple I and Apple II computers.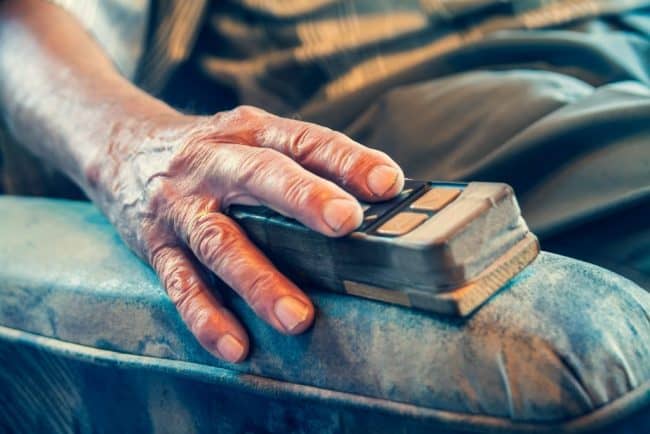 Present Day
Without question, universal remote controls have come a long way and they are continuing to evolve further. As consumers adopt more smart home tech and want to make their various devices work together, we will see more support for these capabilities. In less than a decade, we've seen remotes transition from cheap pieces of plastic that had a limited use (control your TV and VCR – woo woo) to super-advanced smartphone-like devices with color touchscreens, backlit buttons, and haptic feedback.
Oh, and that is even before we mention no more having to input those dreadful universal remote-control codes! The software behind any decent remote will now handle that all for you behind the scenes. Probably the biggest advancement in universal remotes in the last few years is better integration with digital assistants like Amazon Alexa and Google Assistant. This technology is still in its infancy, but the trend is clear. More and more, universal remotes will include more voice commands and the tech will only get more responsive and better.
---
Basic Features of Universal Remote Controls
The following features can be found on traditional IR remotes and also many modern remotes today:
A power button
Channel and volume up and down selectors
A mute button
Play, Pause, Rewind, Fast Forward, and Record buttons
A compartment for one or more batteries (usually two AA batteries on most traditional models)
A menu button, to access the menu of the active device
Info and Guide buttons, to control aspects of Cable TV and Satellite services
A number pad to enter in specific channels or to program device codes
---
Advanced Features of Universal Remote Controls
Following are some advanced features we have seen in universal remotes over the past few years across multiple products and manufacturers:
Customizable buttons for mapping activities such as Watch a Movie, Listen to Music, Watch TV, etc.
Help buttons that connect to Help interface for the remote
Color LCD touch screens that display icons for favorite channels and activities, sometimes even giving haptic feedback, such as vibration on press
The ability to intelligently detect which smart device is in a remote's crosshairs and update the controls accordingly (check out our SevenHugs review)
The ability to assign "recipes" to one or more actions. For example, the "Watch a Movie" recipe might Turn on the TV, tune to Netflix, lower your smart lights, turn on movie accent lighting, lower your smart blinds, and activate your Dolby surround sound system
Rechargeable batteries (usually Lithium-ion) and charging station
The ability to control your TV and seven smart devices with your voice
Find my Remote feature that causes the remote to beep when activated; this is great if you misplace a remote or lost it in your sofa cushions
Integrated search that lets you search across multiple streaming media services
The ability to access curated content reviews and recommendations on what to watch directly from the remote manufacturer and its partners
---
So, What Is A Universal Remote Control Anyway?
We hope you enjoyed this post and that it fully addresses the question above.
If someone were to ask you for a definition of a universal remote would you be able to give them one now?
Please leave us a comment below and let us know.
Also, if you found this helpful, would you mind sharing it using a social media button at the top of this page? Thank you!
---
You Might Also Like
If you enjoyed reading this, you might also like some of our other articles.  We'll list a few of them here.
3 Easy Ways to Safely Clean and Sanitize Remote Controls
7 Cool Voice Control TV Remotes [That Work with Alexa]
Harmony Express Review: Logitech's Latest Remote Lets Alexa Run the Show
What is the Best Universal AC Remote App? [for iPhone, iPad & Android]
DirecTV Universal Remote Controls: 7 Best for 2019
Caavo Control Center Review: Now with HDR and IFTTT for Less
---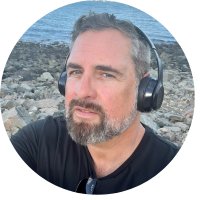 Tim Brennan is a technology blogger and hosts the @TecTimmy YouTube channel. He writes about smart homes at oneSmartcrib, home theaters at UniversalRemoteReviews, and AI in writing at Writeinteractive. A graduate of Northeastern University School of Journalism, he has written about technology for 30 years. Tim lives on the ocean in Nahant, Massachusetts.