Affiliate Disclosure
As an Amazon affiliate, I earn from qualifying purchases.
In this post, I'll give you my glowing endorsement of the best remote apps for Insignia TVs you can get this year.
If you don't have time to read the entire article, here is the list of my top five:
---
Best Insignia TV Remote Apps for iOS and Android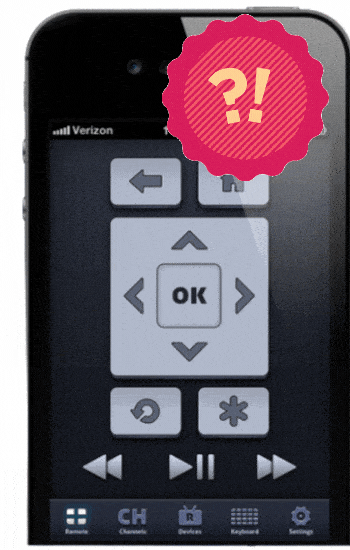 It's annoying when you have to declutter various remotes for your entire entertainment system. But, it's next-level frustrating if you lose a remote-such as the one for your Insignia TV.
Luckily, there are universal remote apps for Insignia TVs you can download to your Android and iOS devices.
You can transform your device into a remote that works with your Insignia TV and other entertainment center components. Best of all? You'll always have a backup remote control at your fingertips.
Finding the best universal remote app for your Insignia TV can be challenging, however. For one thing, there are now a ton of options from which you can choose. However, only a handful will have capabilities that provide all the features you need. Secondly, not all of them may be compatible with your device. And third, a bunch of them display annoying intrusive ads.
So, I created a detailed guide to hook you up with five remotes.
By the time you're done reading this, you'll have a great idea of what universal remote apps best work with your Insignia TV this year.
---
#1 – Insignia Smart TV Remote App
💰 Price – Free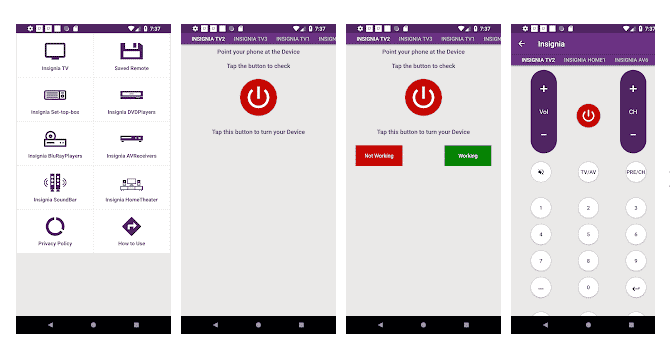 The Insignia Smart TV Remote App is primarily designed for the Insignia Smart TV. It has all the functionalities of a real Insignia remote, so it feels like you are using one.
The app is only 9.5MB, so you'll be able to install it quickly even with slow Internet. It's also easy to use. Once it's set up, you don't have to configure it again to the same device.
The Insignia Smart TV Remote App's current version requires Android 4.4 and up. You can use it to control your Insignia TV and other home theater components. It won't work with your iPhone however.
 Pros
Has all the functions of the official Insignia remote
Easy to install and set up
Supports multiple devices
Configured devices are saved on Saved Devices
 Cons
Needs a built-in IR blaster for configuration
Reminders to rate the app can be annoying
No iPhone version
---
Where to Get It
  Download for Android: Google Play
---
#2 – Amazon for Fire TV (Perfect for Insignia Fire TV Editions)
💰 Price – Free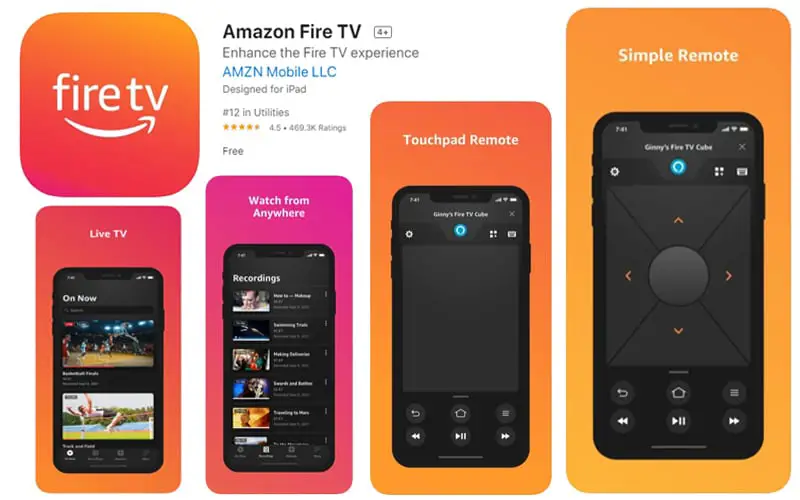 The Amazon Fire TV Remote App is easily the best option if you have an Insignia Fire TV. It is available for free download to iOS and Android.
The Amazon Fire TV remote app has a voice search and a built-in keyboard for quick text entry. It also features playback controls of Fire TV streaming media players. Plus, it offers quick access to your favorite apps.
Overall, the free app enhances your Fire TV experience with simple navigation. It connects to any Firestick quickly and with minimal issues. It works just like the physical remote that comes with Insignia Fire TVs. That remote looks like this:
📚 Related: 7 Best Remotes for Insignia Smart TVs
 Pros
Specifically designed to work with Insignia Smart TVs with Amazon Fire TV built-in
Easy to set up after download
Has voice search and keyboard for easy access
Complete with channel list, TV settings, and other controls
 Cons
Requires a multicast-enabled router
Sometimes disconnects from your TV
Can be a little buggy
---
Video Review
 Video Credit:
YourSixStudios
Where to Get It
  Download for iOS: Apple App Store |   Download for Android: Google Play
---
#3 – RoByte Universal Remote App
💰 Price – Free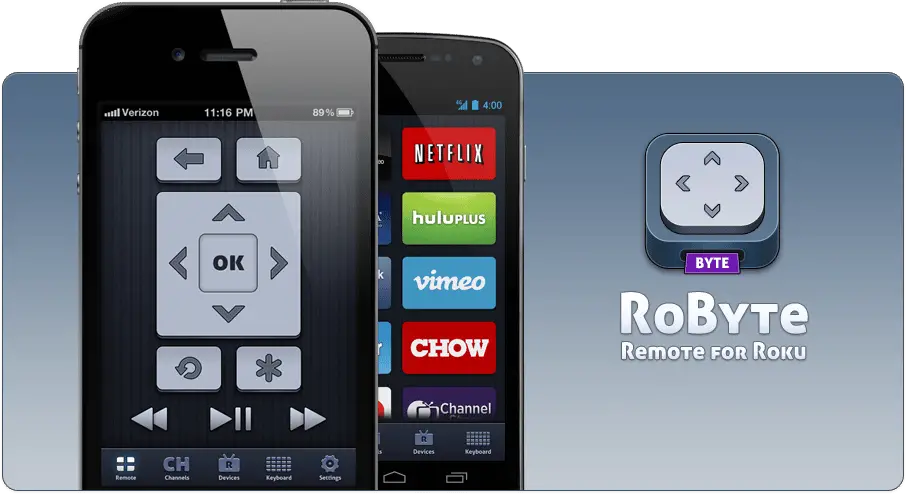 If your Insignia Smart TV has a built-in Roku, the Robyte Universal Remote App is the best remote control alternative for this type of television. It is simple and easy to use – no setup required.
The app supports keyword and voice entry and allows you to control multiple Rokus. I love that I can customize widgets to transform my mobile device's screen into a Roku remote.
RoByte features all the functionalities of an Insignia remote and more. You can easily switch channels, adjust your Roku's volume, and toggle the input. It also allows keyboard and voice entry on Hulu and Netflix.
 Pros
Automatically scans your device
Easy channel switcher
Keyboard and voice entry
Control your TV from your smartwatch
Pair with multiple Roku devices
 Cons
Some bugs require reinstalling the app
It does not support Apple Watch
---
Where to Get It
  Download for iOS: Apple App Store |   Download for Android: Google Play
📚 Related: Best Universal Remote Apps for Roku
---
#4 – Yatse Remote App
💰 Price – Free but with In-app Purchases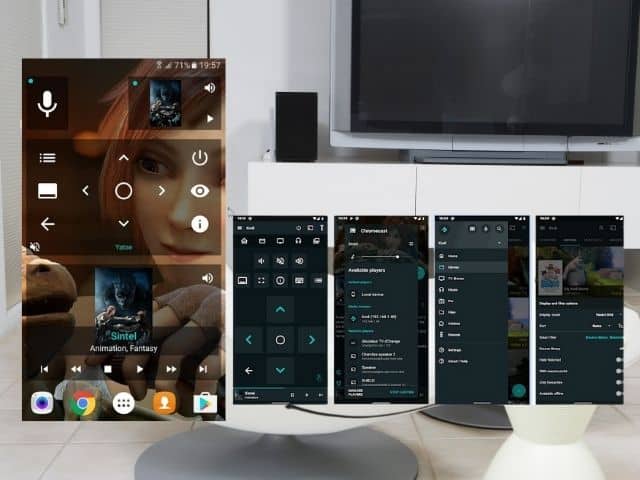 The Yatse Remote App unleashes the power of all your media with its superb multi-device features. It is simple, well-designed, fast, and provides everything you need to control your Insignia TV.
The free app allows you to stream and cast your phone media to your Smart TV device. It also works with your smartwatch. Moreover, Yatse provides access to the most advanced Kodi remote functions. This means that you will be able to control Kodi-enabled media applications.
Other notable features of the universal remote app include natural voice commands, power control options, and Wake On LAN, which allows you to power on your Smart TV through your phone.
 Pros
Stream from Kodi to your Insignia Smart TV and other devices
Compatible with Android smartwatches
Cloud Save for backup and restoration
 Cons
Prevents you from casting personal video recordings
Not available for iPhone
---
Video Review
 Video Credit:
Disconnected
Where to Get It
  Download for Android: Google Play
---
#5 – Sure Universal Remote
💰 Price – Free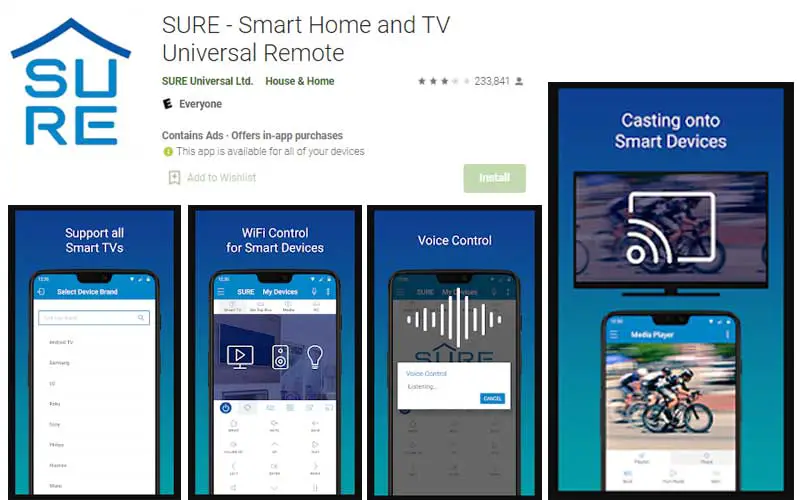 I have recommended this remote for multiple TVs and platforms as it works seamlessly across many of the most popular ones.
Sure Universal Remote is easy to use, allowing you to control your favorite devices within minutes of download. It supports voice control and has a built-in media player to stream content from your phone.
The app works best with smartphones equipped with IR blasters. But, it uses your Wi-Fi to control your smart TVs and media streamers, like Roku and Amazon Fire TV.
With over one million downloads, it is arguably one of the most popular universal remote apps.
 Pros
Beautiful design
Multi-media streaming
Pairs nicely with many popular smart home devices
 Cons
Can be a little buggy
Setup takes some time
A few users reported that sometimes that the connection sometimes drops off
---
Where to Get It
  Download for iOS: Apple App Store |   Download for Android: Google Play
---
Conclusion: Best Remote Apps for Insignia TVs
If you have an Insignia TV, any of the remotes here would be a good choice.
If you asked me to pick one to meet most users' needs, I recommend downloading the Insignia Smart TV Remote App. It has all the functions of an actual Insignia remote and is easy to install and set up.
For advanced users, I recommend SURE Universal. Unlike all other remote apps, it includes core features like a media player, a complete guide, and photo and video streaming.
If there is another app that you really like that didn't make my list, please let me know in the comments below.
Related Reading:
---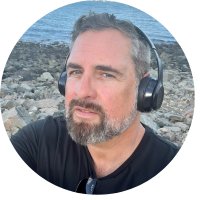 Tim Brennan is a technology blogger and hosts the @TecTimmy YouTube channel. He writes about smart homes at oneSmartcrib, home theaters at UniversalRemoteReviews, and AI in writing at Writeinteractive. A graduate of Northeastern University School of Journalism, he has written about technology for 30 years. Tim lives on the ocean in Nahant, Massachusetts.