Affiliate Disclosure
As an Amazon affiliate, I earn from qualifying purchases.
In this post, I share my top five picks for the best remote control apps for LG TVs you can get right now.
Here's a quick rundown of my top picks:
You can click on any of the apps listed above to jump down to my detailed review.
---
Control LG's WebOS Like a Champ!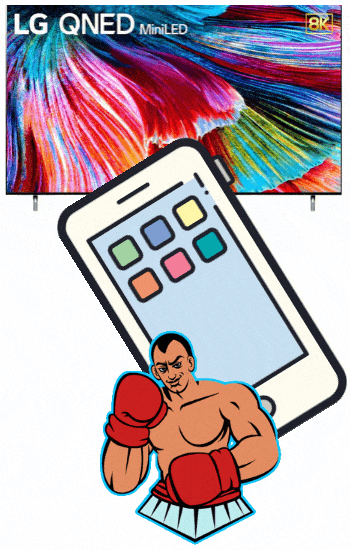 LG
's
WebOS
is a breath of fresh air amongst smart TV platforms. The interface and app bar is intuitive, highlighting a simple-yet-effective design. It's a breeze to find your favorite apps.
In fact, according to trusted tech review sites like TechRadar and AndroidAuthority, you'll find WebOS at the top of their smart TV platform rankings.
LG Smart TVs are definitely in a league of their own in terms of quality and software. However, there are downsides to it as their remotes are different from other TVs. Yes, you can use one of the best universal remotes for LG TVs, but you might just want a quick backup to the LG remote.
And if your remote breaks or gets lost in your sofa cushions, you're going to have a hard time replicating the pointer feature that makes the LG Magic Remote unique.
Lucky for you, there are some apps you can install on your smart device that will imitate this, so you won't even have to think about replacing your LG Smart TV remote.
Finding those apps can be a bit tricky though. So I took a deep dive to find and test five of the best so you don't have to! Here are my recommendations.
---
#1 – LG TV Plus: Best WebOS Remote App
💰 Price – Free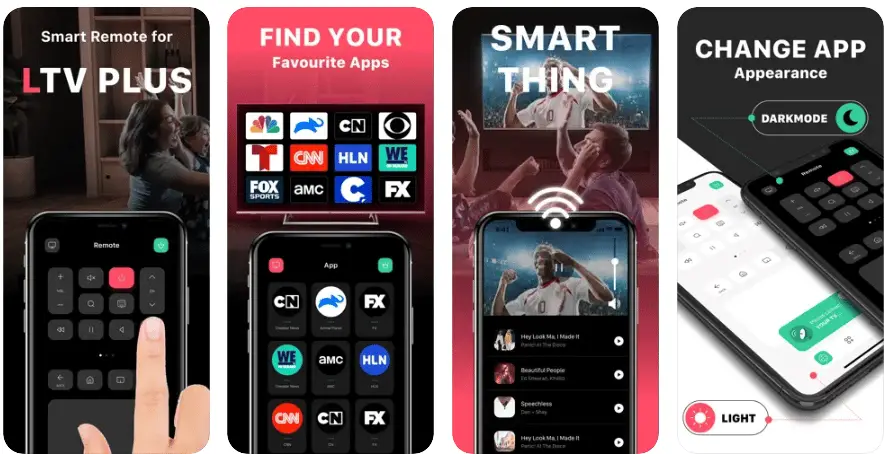 If you're looking for my recommendation on the best remote control apps for LG TVs with WebOS, go with this one. It's the clear choice as an alternate remote for WebOS.
The integration with your LG Smart TV is seamless. In fact, you may even want to ditch your Magic Remote altogether.
Using the pointer on your Magic Remote can take some getting used to. On the LG TV Plus app, it's converted to a touchpad that basically acts like a trackpad on your laptop.
You can even pop open your TV's app list without disrupting your viewing experience since the menu bar won't appear. It's certainly a handy second screen that you can use solely for controlling your TV.
Whether you're watching live TV, browsing Netflix, or switching to your console, this remote app has everything you need and then some.
 Pros:
 Similar features to your LG Magic Remote
 Excellent LG ThinQ smart home integration
 Easy to set up and install
 Cons:
Limited to controlling the TV
---
Where to Get It
Download for iOS: Apple App Store  |  Download for Android: Google Play
---
#2 – Smartify: Best Physical Remote Alternative
💰 Price – Free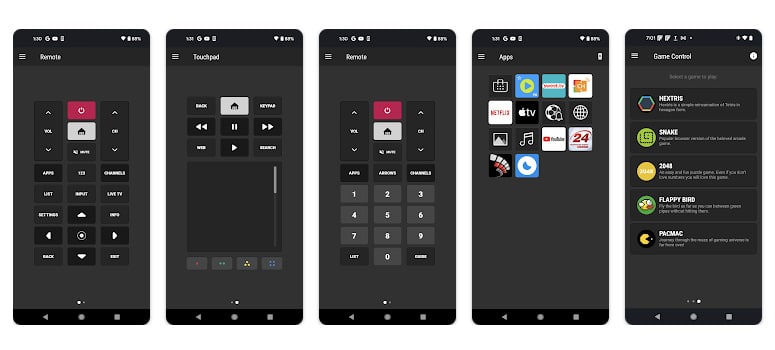 The Smartify app may not be the most visually stunning of these bunch. However, it's so jam-packed with utility that I think you'll learn to quickly love it.
It works seamlessly with the WebOS platform, and it comes with a touchpad allowing you to use LG's cursor for improved accessibility and navigation. The app also supports keyboard input with a digital one that pops up on your phone's screen. This feature certainly makes searching for your favorite shows and other content a lot easier.
You'll also enjoy an app list, so you won't have to call up LG's apps menu minimizing the disruption on your TV screen.
 Pros:
 Touchpad and keyboard for easy navigation
 App list for quick content changes
 Easy to set up, just connect to the same Wi-Fi as your TV
 Cons:
 Need to subscribe to get rid of ads
---
Where to Get It
Download for iOS: Apple App Store  |  Download for Android: Google Play
---
#3 – Smart Remote Apps by Quanticapps: Best for Multiple TVs
💰 Price – Free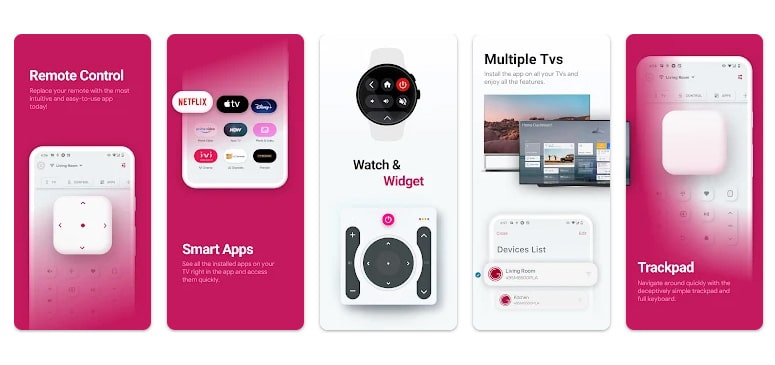 With this LG TV remote app by Quanticapps, you can say goodbye to all your remotes. This app takes things to the next level, especially if you have multiple TVs..
It's visually stunning and has all the commands you need to control your LG TV at your fingertips.
There is, of course, the WebOS touchpad for easy navigation. You also get the app and channel list, so you can switch to watching any content with a quick tap of your finger.
One of the best features of this app by Quanticapps is that they put in the extra effort to add Apple Watch integration. You can now control all the TVs in your home using your smartwatch, which is very Buck Rodgers!
 Pros:
Control TVs with your Apple Watch
 Touchpad technology for quick navigation
 All the features of your LG Magic Remote
---
Video Review
  Video Credit:
QuanticApps
Where to Get It
Download for iOS: Apple App Store  |  Download for Android: Google Play
---
#4 – LG Smart TV Remote: Best for Casting Content
💰 Price – Free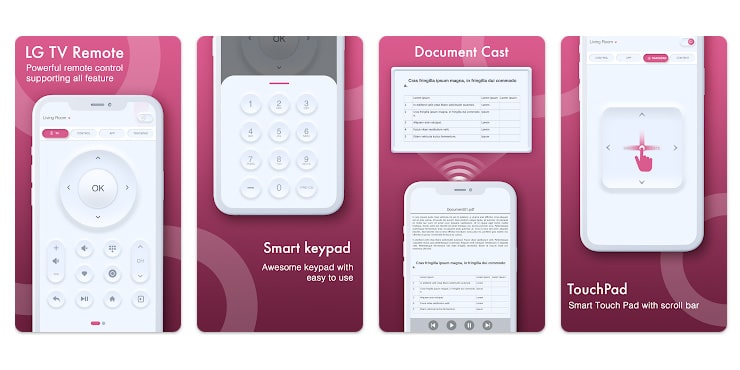 Next on my list of best remote control apps for LG TVs is this gem.
If you lost or broke your LG remote, this is another great app to get, especially if you like casting content from your phone. It makes sharing anything, whether photos, videos, music, and even documents, a lot easier.
Now, if you're not the type to share anything on the big screen, it's also a handy remote app that you can use from your phone. It has all the buttons from your physical remote, so you won't feel like you're missing it.
It also comes with a trackpad that makes navigating WebOS rather fun.
 Pros:
 Comes with all the buttons of the LG remote
 Snappy response times
 Cast videos, images, audio, and files to TV
 Cons:
 Does not have the advanced features of other remotes on this list
 Android only
---
Where to Get It
Download for Android: Google Play
---
#5 – Sure Universal Remote: Best for Smart Home
💰 Price – Free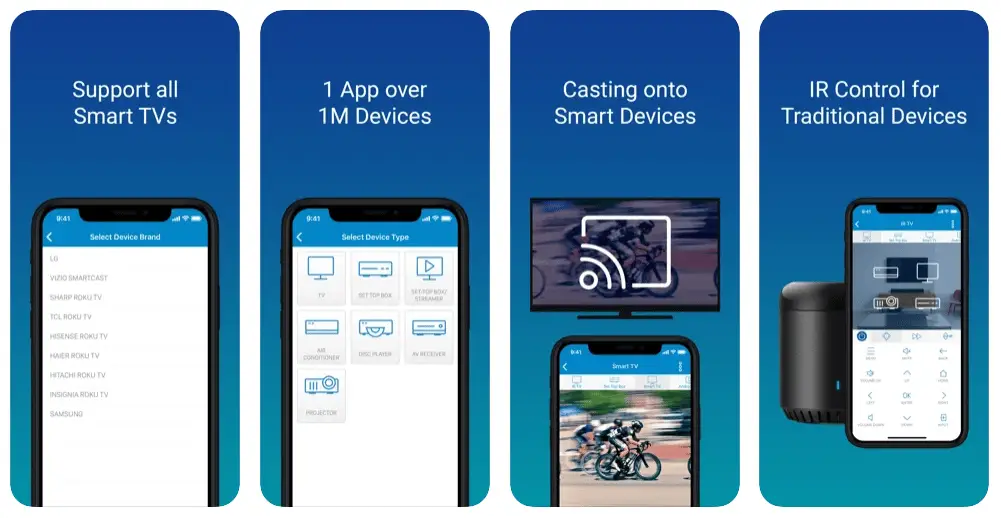 Although not a dedicated remote app for LG WebOS TVs, the Sure app still does the job. It does have its share of advantages, though, as it's an excellent app to control your entire smart home setup.
The Sure universal remote is not just about your TV but your entire home. If you're a smart home enthusiast with integrated devices, I think you may really appreciate this app.
There are no fancy touchpads and keyboards, but it does come with voice controls and routines that allow you to change channels and dim your lights simultaneously.
 Pros:
 Lots of smart home integration features
 Voice control for quick commands
 Supports all smart TVs, including LG WebOS
 Cons:
 No LG Magic Remote features like cursor and touchpad
---
Video Review
  Video Credit:
HowToMen
Where to Get It
Download for iOS: Apple App Store  |  Download for Android: Google Play
---
Wrap Up: Which LG TV Remote App is Best?
Whether you choose to go the dedicated LG WebOS remote route or not, I'm hoping that one of these best remote apps for LG TVs is a perfect fit for your needs.
If you want a basic remote app to replace the LG Magic Remote go with number one on my list here. If smart home control is a concern, check out the Sure remote coming at number five above.
Have you tried any of these or other apps with your LG TV that you can't absolutely live without? If there are any other apps you love that I've missed, please leave me a comment below and let me know.
I would love to hear from you.
📚 Related: Who Makes LG TVs
---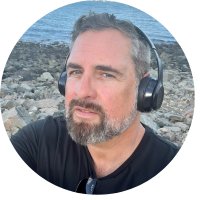 Tim Brennan is a technology blogger and hosts the @TecTimmy YouTube channel. He writes about smart homes at oneSmartcrib, home theaters at UniversalRemoteReviews, and AI in writing at Writeinteractive. A graduate of Northeastern University School of Journalism, he has written about technology for 30 years. Tim lives on the ocean in Nahant, Massachusetts.