Affiliate Disclaimer
As an Amazon Affiliate, we earn from qualifying purchases.
In this article, I share all of the GE Remote codes for Philips TVs, DVD players, VCRs, receivers, and audio equipment you need to program the universal remote to your devices.
Philips TV Fun Facts
W
ant to know a couple of fun facts about Philips TVs?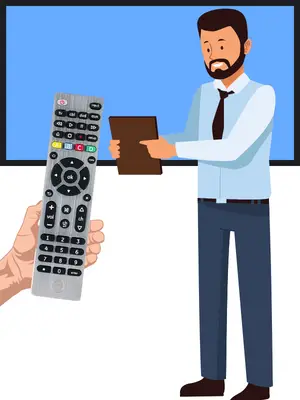 First, Philips is known for its Ambilight technology, which projects colored lights onto the wall behind the TV to enhance the viewing experience and create a more immersive environment.
Second, Philips is a pioneer in OLED technology for televisions, with its OLED TVs offering deep blacks and vivid colors for a truly stunning picture quality.
Using a GE Universal Remote, you can control multiple home entertainment devices like TVs, VCRs, Blu-ray players, and stereo systems, including Philips brand TVs and equipment. However, to program your GE remote to these devices, you will need to enter the correct GE Universal Remote codes.
If you recently purchased a universal remote control for a Philips TV, then you can use the specific codes listed below to program itit..
I have included all the codes you'll need to program your GE remote control for your Philips TV.  I will also include the GE Remote codes for other popular Philips devices and programming instructions here s well.
First, look for your Philips TV or other devices in the table below, then select the code and follow the programming guide section.
OK, so let's get you those GE remote codes for Philips TVs and other equipment.
---
List of GE Remote Codes for Philips TVs & Equipment
Here is a list of GE remote codes for Philips TVs that will help you pair your GE Universal Remote with your electronic devices like TVs, DVD players, VCRs or DVD combos, etc.
Device/Model

GE Remote Control Codes




GE Universal Remote Codes For Philips TVs

0200, 0004, 0003, 0062, 0008,0288, 0204,
0207, 0068, 0206,
0199, 0208, 0141, 0075, 0205, 0184,
0189, 0183, 0086, 0087,
1004, 1007, 1011, 1017, 1018,
1047, 1053, 1056, 1057, 1059

GE Universal Remote Codes for Philips HDTVs

1129, 1236, 1237, 1239, 1261,
1334, 1351, 1390, 1411

GE Universal Remote Codes for Philips DVD Players

2109, 2156, 2157, 2158, 2159,
2032, 2033, 2045, 2051, 2091

GE Universal Remote Codes for Philips Audios

4006, 4027, 4039, 2304

GE Universal Remote Codes for Philips Amplifiers

6047




GE Universal Remote Codes for Philips VCRs

3016, 3036, 3047, 3061,
3071, 3135, 3160,
3173, 3208, 3216

GE Universal Remote Codes for Philips Receiver Tuners

5000, 5112, 5138, 5143, 5145, 5154
Knowing which code works for your device when each model has multiple codes can be confusing. But don't worry. You can simply go through the entire list until you find the one you that works. The best method is always trial and error, just keep going! Try the next number on the list if the first fails. Then, you will likely get your device up and running with the codes mentioned in the list.
📚 Related: GE Universal Remote Codes List
---
GE Universal Remote Programing for Philips TV
In addition to the ge remote codes for Philips TVs, I'll also include the codes for Philips DVD players, VCRs, Blue-ray and more belowyour . Here are the instructions for programming your remote to work with the TV.
Programing Without Codes
The auto search method scans the remote for the GE remote code for Philips TVs. The remote control can be programmed by scanning each code one at a time until it locates the correct code. These are the steps:
Turn on the device with which you wish to use the universal remote, such as a TV.
Hold down the buttons (TV, DVD, and CBL) for three seconds to turn on the device. An LED light will then illuminate once the device is programmed.
You can control the remote control by pressing the "CH+", and "CH-", buttons. You have successfully controlled the remote control if an indicator appears. To turn off a device press the "up", or "down" keys until it turns off.
To confirm the code, press the "power" key. The device should now start to work. You can make sure that the remote is correctly programmed by changing the channel once it starts.
After you have saved your code, click "device." The LED will blink twice to confirm that you have saved the code.
Programming Manual Method
Keycodes are used to program the GE remote codes for Philips TVs quickly and identify its make and model.
Before programming can be done, the remote must first be turned on.
Click the TV
When the "Light Flash" appears on the Universal Remote when you hold down "Setup," you will be in "Learning Mode".
Finally, enter the "Keycode", which you have obtained from the Instruction Booklet (programming guide).
Now, you can turn on your remote control by pressing the Power button.
Once you press the "Power" button, your screen will go black.
Your TV will now work perfectly with the universal remote. If it fails, you can try the process again using a different code from the code table mentioned above.
Programming Using the Code Search Button)
If your remote features code search, follow our step-by-step guide to program your Philips Universal Remote using the Code Search Button:
Turn on the device (TV, VCR, etc.) that you want to operate.
Hold the SETUP button down until the red light indicator is lit. Once the light turns on, release the SETUP button.
Press and then Release the button for the mode you desire (TV, VCR, etc.) After the red light indicator flashes, it will remain lit.
Use the code table to find the four-digit code you need.
Once the device is turned on, you can test it by pressing several buttons. If your device responds correctly, you have successfully located a valid code.
For other devices that you want to use the Remote control for/with, repeat steps 1 through 4.
Tips
The red-light indicator will turn off after entering on of the valid GE remote codes for Philips.
The red-light indicator will flash first and then turn off if there is an invalid code. You will need to go back into Setup mode and enter a new code.
Try out other codes for your device and brand if some buttons don't work properly.
Video
Take a Bath Productions has one of the more popular videos out on YouTube on how to program a GE remote. Dig the cool shades, man.
📚 Related: Best Remotes for Philips TVs
---
GE Remote Codes for Philips: Conclusion
In wrapping up this article on GE Remote codes for Philips TVs and equipment, I just want to say I hope one of the codes in the list above worked for you.
I'll leave you with one more tip that threw me off when I tried to program my remote.Before you start programming universal remote codes for Philips TV, make sure the device you want to control is turned on. Once you have programmed your remote, it is now possible to control multiple devices using it. Pretty cool, right?
So which device are you planning to control with a remote?  Please leave me a comment below and let me know.