Affiliate Disclosure
As an Amazon affiliate, I earn from qualifying purchases.
Looking for the best remotes for Hisense TVs that you can get right now? In this article, I'll take a look at five of the very best Hisense Smart TV remotes you can buy today.
The best remotes for Hisense TVs are:
---
The Best Hisense Compatible Remotes
W
hen you think about Smart TVs, Chinese TV manufacturer
Hisense
doesn't necessarily come to mind immediately.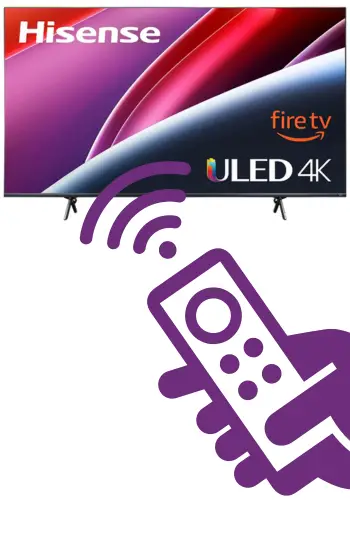 Samsung, Sony, TCL-Roku, LG, Insignia, Vizio—are the brands that are top of mind for most consumers when it comes to smart TV brands.
But think again. Hisense is gaining on the competition, especially among avid streaming media viewers.
In fact, a recent article published in Consumer Reports explains how Hisense is gaining ground in the high-end TV market.
A slightly older article published in Variety Magazine talks about how six million of the company's avid TV users stream over 200 minutes of video every day. Now that's a whole lotta streaming going on!
But it's hard to stream the latest season of Stranger Things, if you lose your remote. Perhaps even worse, having to use two, three, or even four remotes just to get your entertainment experience going can be downright annoying.
In this article, I cover the five best remotes for Hisense TVs.  Two of these will let you replace the Hisense factory remotes, and three of them are universal remotes that will let you consolidate multiple remotes down to one.
📚Related: GE Remote Codes for Hisense TVs
---
#1 – Best Overall: Sofabaton X1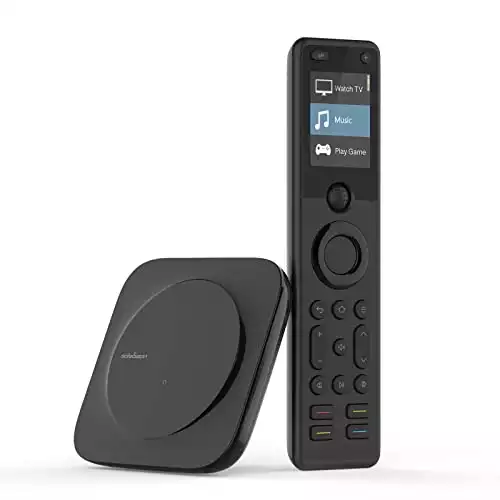 The Sofabaton X1 is also compatible with all Hisense Smart TVs. It also includes the Sofbaton Hub which controls your Bluetooth and infrared (IR) devices over radio frequency (RF) waves.
The remote itself is streamlined and features an LCD display panel that lets you control custom Activities you can create, like "Watch TV" or "Play Game." When an activity is selected, the Hub goes to work and fires up all of the required devices for that activity. Very cool.
Here's what my X1 looked like before I set up my custom Activities:
The X1 will let you control up to a whopping 40 devices, and the battery life is nothing short of amazing at 60 days on a single charge. Yes, you heard that right, 60 days, not hours. It also can control some smart home devices like lights and blinds, and it even works with Alexa and Google for voice control.
You can check out my review comparing Sofabaton vs Logitech Harmony if you want to learn more.
Video Review
  Video Credit:
HighTechCheck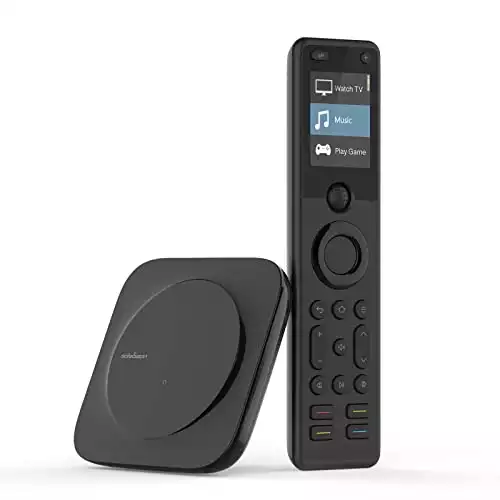 SofaBaton X1 Universal Remote
X1 works with over 500,000 entertainment and smart devices so you can control of up to 60 devices from your favorite brands.
Remote features backlit buttons, a rechargeable battery with long battery life, and a bright LCD screen. Super easy to use once set up.
With SofaBaton Activities, you can enjoy one-click Actions to trigger multiple devices with a single button push.
Buy at Amazon
---
#2 – Premium Pick: Harmony Elite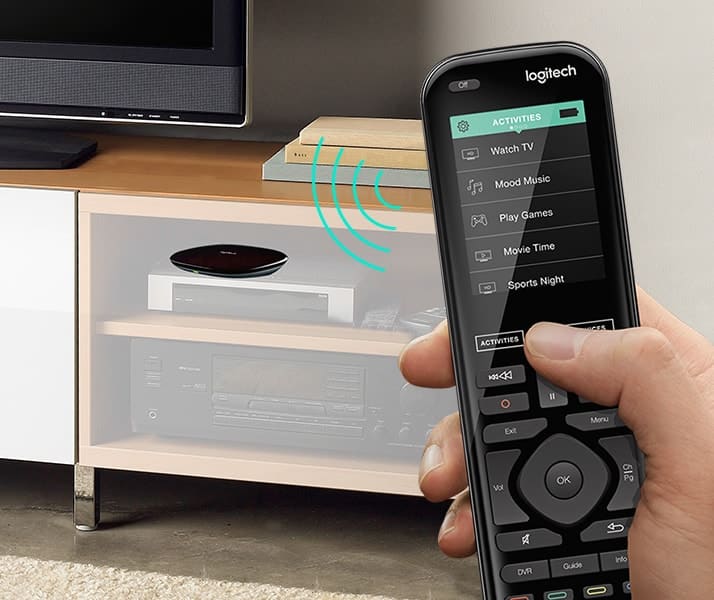 Next on my list of the best of the best remotes for Hisense TVs is the granddaddy of universal remote controls, the Logitech Harmony Elite. Despite Logitech's shocking announcement that they will no longer be making Harmony remotes, the Harmony Elite is still one of the best universal remote controls you can buy today.
That is if you can find one. Here's my Harmony Elite in need of a recharge as I have been using the X1:
You get most of the functionality of what the X1 provides, plus a beautiful color touchscreen remote that gives you swipe and tab abilities, haptic feedback, and customizable touchscreen buttons for activities.
The Elite is limited to controlling up to 15 home theater devices, but it will control your smart devices too. All Harmony remotes are compatible with Logitech's database of 275,000 devices from some 5,000 brands.  Some setup is required, and it can be a bit challenging. You will need to set this up using both your PC and a smartphone option.
You can read my full review of the Harmony Elite here.
Please note: Prices of the Logitech Harmony have gone UP dramatically since Logitech announced it is sunsetting the Harmony line, making this a great time to buy this remote.
Video Review
Video Credit:
B The Installer
Premium Pick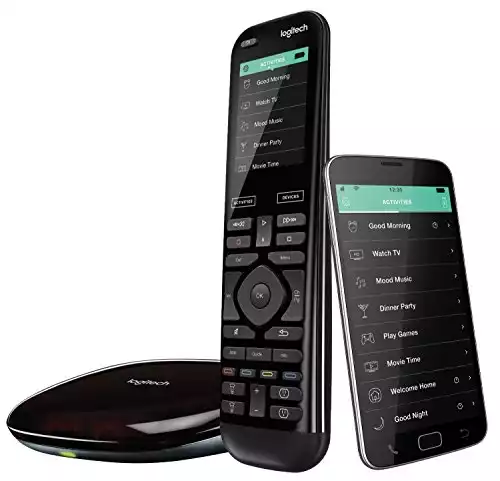 ---
#3 – Best Hub & App: Broadlink RM4 Pro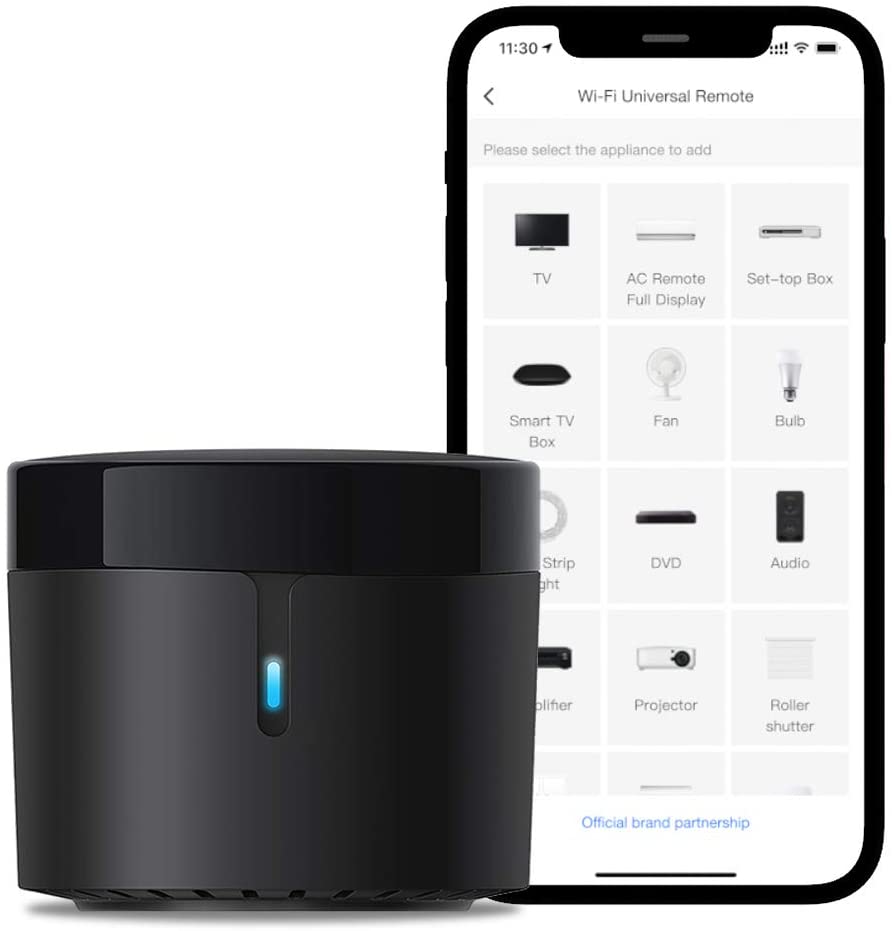 Next on my list of the best remotes for Hisense TVs isn't really a remote at all. It's the Broadlink RM4 Pro hub and app.
In addition to controlling your Hisense TV via your smartphone or your voice, Broadlink RM4 Pro provides a simple and affordable way to achieve home automation. This device can automate older devices and appliances and can be controlled with your phone or voice assistants, Amazon Alexa or Google Home. It's pretty much anything with an existing remote control that can be added to the app and controlled via your phone or voice assistant.
Want to automate your ceiling fan or cheesy remote-controlled fireplace?  (Don't worry I have one too.)  Broadlink can be just a ticket. The only requirement is that the device can be controlled via a remote.  It will also work with smart home devices such as Phillips Hue Lighting and Sonos smart speakers.
Best of all, you can program activities like Movie Night.
Say what?
When you press the Movie Night button on your smartphone, the hub goes to work and fires up all required devices. This might include turning on the TV and soundbar, tuning to Netflix, and dimming your Phillips Hue smart bulbs. The intuitive phone app lets you swipe and tap to control channels, watch movies, and more.
The drawbacks to using Broadlink are that it takes a while to set up, and it needs to have a line of sight (LOS) to the devices to work properly.  Also, if you prefer a physical remote to guide your binge-watching spree, this is not the solution for that.
Still, this is a great option if you don't need a physical remote and don't mind controlling your TV with your phone.
📚 Related: 11 Best Universal Remotes This Year
Video Review
My Favorite YouTuber, Paul Hibbert, gives his usual "mind-blowing" review of the RM4 pRO.
  Video Credit:
Paul Hibbert
---
#4 – OEM Replacement: Hisense Remote
Further down the food chain is this super highly rated and equally affordable replacement remote:  the HiSense EN-33922A TV Remote Control. This is not a universal remote but rather a replacement remote that won't control your smart home devices or anything other than your Hisense TV, for that matter.
But it will work right out of the box with the Hisense TV models listed below.
LHD32K366WUS
LTDN40K366NWUS
LTDN40K366WUS
LTDN50K366GWUS
LTDN50K610GW
LTDN55K610GW
What is most interesting to me is that the customers who own this remote actually like it. This really is not typical for remotes that ship with the TV.  There is a prominent button for Netflix, which surely is a fan favorite with Hisense's streaming media fan club.
---
#5 – Hisense Roku TV: GEC Remote
Last on my list of best remotes for Hisense TVs is this little fella from GEC.
If you own a Hisense Roku TV and just want to replace the remote, then this replacement remote will do the job nicely.
That is, of course, if all you want to do is replace a lost remote. It won't let you consolidate multiple remotes down to one, and it definitely won't let you control your smart home stuff or work with Alexa. But, it will let you control your Hisense Smart Roku TVs on the cheap, cheap, cheap.
You just install two new AA batteries to get you in business. Buttons include Netflix, Sling, Hulu, and, oddly NOW or Google Play.
---
Best Remotes for Hisense: What Do You Think?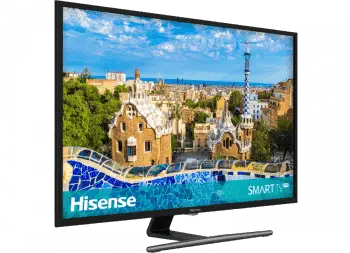 So what do you think about my picks for the best remotes for Hisense TVs?
Are you simply looking to replace an existing remote that you lost?  Or are you considering a real universal remote that you can use to consolidate down from multiple remote controls?
Which of the above products are you considering? Or have you already made up your mind?  Please let me know by leaving a comment below.
I would love to hear from you.
📚Related: 5 Best Remote Apps for Hisense TVs
---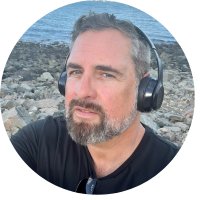 Tim Brennan is a technology blogger and hosts the @TecTimmy YouTube channel. He writes about smart homes at oneSmartcrib, home theaters at UniversalRemoteReviews, and AI in writing at Writeinteractive. A graduate of Northeastern University School of Journalism, he has written about technology for 30 years. Tim lives on the ocean in Nahant, Massachusetts.