Affiliate Disclosure
As an Amazon affiliate, I earn from qualifying purchases.
In this newly updated blog post, I'll give you my recommendations for the best remotes with voice control you can get right now.
Here are my top picks:
---
Voice Control for Your TV Is Here
A
lright Buck Rogers, so you want the scoop on the best remotes with voice control. I get it. Searching around in the bowels of your sofa or favorite E-Z chair among the crumbs for that ever-elusive remote does get tiresome.
Apparently, we are in good company. A recent Voice-control remote penetration study by market watchdog Statista found that around 44% percent of surveyed U.S. households have a TV remote capable of voice control. This was surprisingly higher than I was expecting.
But how do you know the best remotes with voice control right now?
Fear not! In this post, I review seven brilliant universal remotes with voice control compatible with Amazon Alexa. Oh, and most are compatible with Google Assistant, too.
Editor's Choice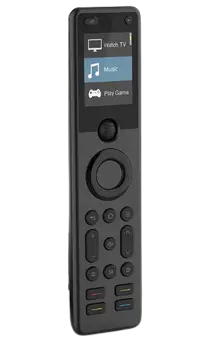 The best universal remote with voice control is the Sofabaton X1.
The X1 will let you consolidate up to 60 remotes, it supports Sofabaton's vast database of 500,000 devices from 6,000 brands, and it offers plenty of commands to control both TV and smart devices using Alexa and Google Assistant.
Plus, you get a great physical remote, too, with a cool LCD screen. See my full review below.
---
Top 4 Voice Control Remotes: Side-By-Side
In the table below, you can compare my top picks for the best remotes with voice control.
Top Pick
Product Name
Editor's Choice: Sofabaton X1
Best Hands Free: Fire TV Cube
Best Hub and App: Broadlink RM4 Pro
Best for Alexa: Voice Remote Pro
Supported Voice Assistant(s)
Alexa and Google Assistant
Alexa, Google Assistant, Siri
Replaces this Many Remotes
Last update on 09/27/2023 / Affiliate links / Images from Amazon Product Advertising API
I will provide detailed summaries of all my picks for the best remotes with voice control along with pros and cons and a buyer's guide below.
---
#1 – Editor's Choice: Sofabaton X1
Awesomeness Meter
Supported Voice Assistants: Amazon Alexa, Google Assistant.
Since Logitech announced it would no longer make new Harmony remotes, the Sofabaton X1 now tops my list of the best remotes with voice control. I have been recommending this to friends and family, and readers like you when they ask me for a recommendation to replace their Harmony remotes.
I am currently using both the X1 and the Logitech Harmony Elite in my apartment here, and I've got to say there are some things I like about the X1 better. First, the smaller size is just easier to hold in my hand. Second, while there is no charging dock for the X1, the battery life is amazing at about 60 hours on a single charge.
Third, I found the setup process for the X1 to be easier and more intuitive than Harmony. Although the touchscreen on the Elite is nicer, both remotes have backlit buttons, which makes watching TV in a dark room a joy.
While Alexa commands are limited to turning the TV on and off, controlling the volume, and launching activities right now, I'm sure that the Alexa integration will get better over time. Using X1 Activities, you can tell Alexa to launch "Movie Night," all required components turn on and switch to the proper inputs for that activity.
For example, "Movie Night" could power on your TV, audio receiver, or soundbar, dim your smart lights, change the color of your bulbs, and tune your TV to your favorite streaming device (like Apple TV, Amazon Prime, or Roku).
Harmony did this, sure, but it was more complex to set up than Sofabaton, which can even learn from my existing remotes.
All in all, this is my top recommendation for a universal remote with voice control built in.
Pros
Compatible with 500,000 devices from 5,000 brands.
Supports both Alexa and Google Assistant for voice control.
Can control your home theater devices plus smart devices like Hue lights and Sonos speakers.
Can ask Alexa or Google to launch a custom activity that turns on multiple devices with one command.
Streamlined remote with LCD screen is super easy to navigate.
Backlit buttons and great battery life.
Cons
Set up takes awhile and requires that you spend time mapping your devices to the remote.
Google Assistant commands are limited but the company is working on it.
LCD screen is display only and not a touchscreen.
---
Video Review
  Video Credit:
Kedrick Foster
---
#2 – Best Hands Free: Fire TV Cube
Awesomeness Meter
Supported Voice Assistants: Amazon Alexa
I have the latest Amazon Fire TV Cube and use it almost daily to control my TV with my voice. While I also can leverage Alexa using my Sofabaton X1 and Harmony remotes, I love the fact that I get "everything Alexa" with my Fire TV Cube in addition to being able to control my television.
If you want a simple voice control solution that works right out of the box, this is probably the most intuitive option for controlling your TV with Alexa.
While you can use the Fire TV stick to do much of what the Cube does more cheaply, I like my Amazon Fire TV Cube better. Why? The Cube was designed for the sole purpose of controlling your television with your voice. Check out the following excellent video review from Smarter Home Life.
Pros
Great all-around voice control with Alexa and latest generation is more responsive than before.
In addition, Fire TV Cube commands, supports most Alexa commands like news, weather, smart home control, etc..
Can control AV equipment as well as TV.
Set up is automated using your TV screen and takes just minutes.
Includes the remote.
Cool cube design looks good on the entertainment center.
Cons
The remote does not include volume buttons.
There is no support for YouTube.
There is no support for Dolby Vision yet.
Response time can seem a bit laggy (as you wait for commands to execute).
---
You can also read my review about FireTV and see a detailed FireTV Cube Specifications sheet here.
Video Review
  Video Credit:
landpet
Here's another short video I did on my YouTube channel showcasing the new HDMI port on the back of the Cube. Very cool.
📚 Related: Best Smart TVs With Google Assistant
---
#3 – Best Hub and App: Broadlink RM4 Pro
Awesomeness Meter
Supported Voice Assistants: Alexa, Google Assistant, Siri
The Broadlink RM4 Pro is one of the most advanced smart remote control devices on the market. It works with Google Assistant, Alexa, and IFTTT to control all your home entertainment systems from anywhere in the world using only your phone or tablet.
The RM4 Pro can also be used as a learning remote to learn IR signals from existing remotes so you don't have to worry about compatibility issues.
You can even use it behind closed cabinets and doors, making it ideal for situations where other remotes cannot reach. With the Broadlink RM4 Pro, you will have complete control over your home entertainment at your fingertips.
The product footprint is also tiny as the product dimensions are 3.35 x 3.35 x 1.22 inches, and it weighs just 5.2 ounces.
It uses RF 433MHz and 315MHz frequencies. While line of sight to devices is preferred, it has a range of up to 100 meters. I was able to successfully get the device to penetrate some walls, doors, and other obstacles in my testing.
Pros
Affordable
Can control smart devices as well as home theater
Works with Alexa and Google Home
Can voice control older devices like ceiling fans and air conditioners and even electric fireplaces and christmas lights
Works with IFTTT (If This Then That) to create custom environment-specific recipies (e.g., turn on the lights after sunset)
Cons
No physical remote
Requires 2.4 GHz network
Takes some time to set up
Requires line of sight (LOS) with devices for them to work
---
Video Review
  Video Credit:
Broadlink UAE
---
#4 – Best for Alexa: Voice Remote Pro
Awesomeness Meter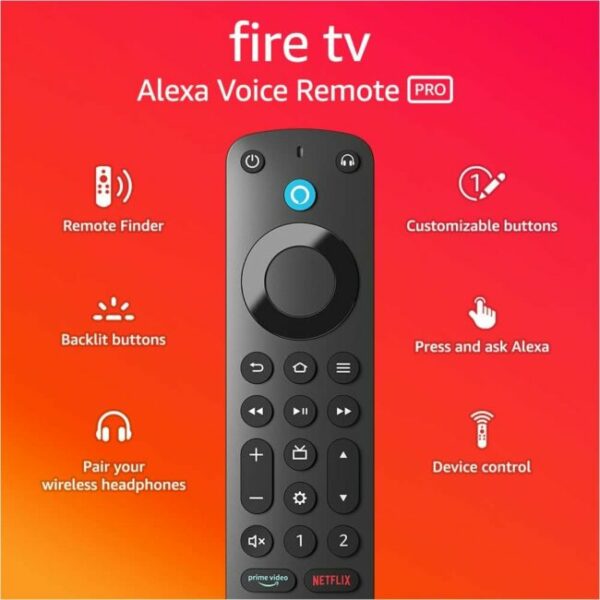 Supported Voice Assistants: Amazon Alexa
As an avid Amazon Fire TV user, I've recently bought and have been testing the new Alexa Voice Remote Pro, an upgraded version of the Alexa Voice Remote.
This improved model is compatible with several devices, including the Fire TV Stick, Fire TV Stick 4K, and the Fire TV Cube, and it has several cool new features over the standard remote.
My favorite feature is the remote finder, which helps me locate the remote when I lose it in the sofa cushions. Also, the backlit buttons are a handy addition for streaming at night or in low-light conditions.
Another new feature is the two customizable buttons that allow me to control my favorite devices at the press of a button. Additionally, the headphone button is a nifty inclusion for Bluetooth pairing, a feature I frequently use while gaming to avoid annoying my girlfriend. LOL.
This is one of the best remotes with voice control for Amazon Alexa by a mile!
Pros
Remote finder plays a sound to locate lost remote.
Backlit buttons for low-light use.
Two single-press customizable buttons.
Headphone button for easy Bluetooth pairing.
Cons
Pricier than the standard Alexa Voice Remote.
Requires two AAA batteries, not included.
Not compatible with all Fire TV models.
---
---
#5 – Budget Alexa: Alexa Voice Remote
Awesomeness Meter
Supported Voice Assistants: Amazon Alexa
While the Fire TV Cube works hands-free when you use the Alexa wake word, the Alexa Voice Remote requires that you push a button on the remote in order for you to control your home theater with your voice.
This can be beneficial since you are right on the top of the remote, Alexa rarely misses the commands you utter. For the older versions of the Fire TV Cube, she probably gets it right 7 out of 10 times. Otherwise, I would typically end up having to repeat the commands.
This happens only rarely with the new Fire TV Cube though. Another benefit is that it is super cheap. While it won't control your non-Fire TV devices or smart home stuff, it does offer a simple solution to get voice control with your Fire OS devices and Firesticks.
If you can afford the higher-end Voice Remote Pro (above), go for it. It is just a better remote.
Pros
Inexpensive.
Solid performance.
Press button to ask Alexa to find and navigate through your favorite programs and movies
Dedicated buttons for popular streaming sevices Netflix, Prime Video, Disney+, and (oddly) Hulu.
A great replacement for older Fire Sticks and Fire TV Edition Smart TVs that did not include the Alexa voice remote.
Cons
Works only with compatible Fire TV devices: Fire TV Stick Lite, Fire TV Stick (2nd Gen and later), Fire TV Stick 4K, Fire TV Cube (1st Gen and later), and Fire TV (3rd Gen, Pendant Design).
Remote is missing some popular streaming services.
Won't control other devices in your home theater or smart home not already assigned to Alexa.
---
---
#6 – Premium Pick: Logitech Harmony Elite
Awesomeness Meter
Supported Voice Assistants: Alexa, Google Assistant, and Siri
The Logitech Harmony Elite is Logitech's top-of-the-line remote control that will let you control your home entertainment devices and smart home technology. It includes the Harmony Hub, designed to control home theater equipment and smart devices supported by Harmony's vast device database.
While the company recently announced it would no longer make new Harmony remotes, it has said it will continue to support the existing Harmony line indefinitely.
Prices have gone up dramatically as the remaining inventory is dwindling, though. As of this writing, the remote is still available at Amazon (at a premium price). The new prohibitive price point for most consumers has caused me to lower my rating and recommendation status for this remote.
I have tested the voice control with Alexa in my apartment, and it works consistently after the remote is configured. Like the X1, Harmony includes IR mini blasters that will let you control of devices behind closed cabinets.
Check out my detailed review of the Harmony Elite if you want to know more.
Pros
Includes Harmony's top of the line color LCD remote control.
Full range of Alexa commands for voice control.
Lets you consolidate remotes for up to 15 devices
Supports for over 275,000 devices from 5000 brands.
Able to control many smart home devices as well as home entertainment.
Activities like "Watch a Movie" turn on all required components.
Turns your family members' smartphones into smart remotes.
Controls devices behind cabinets and through walls.
Cons
It's expensive.
Set up of devices is a bit more complex than other options here. I recommend PC-based set up on a Mac or Windows computer over trying to set this up using your smartphone.
---
---
#7 – Premium Integration Option: Neeo
Awesomeness Meter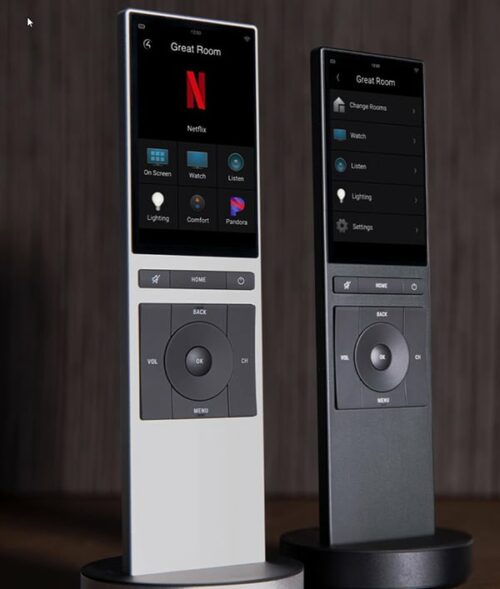 Supported Voice Assistants: Alexa and Google Assistant
While I am not an affiliate for Control4 or am in any way compensated by the company for recommending this remote, I thought I would throw in the Neeo Remote by Control4  for anyone out there who wants a turn-key done-for-you solution for whole home automation.
I owned an early version of the Neeo remote before Control 4 acquired the company, and I was super impressed by the "potential" of this remote then.
While I do not own the newer Control 4 version, I understand that the company has made several improvements to the remote since including it as part of its product line.
This remote is a significant investment, though. It requires that you buy into Contro 4's smart home ecosystem to get it to work and that a system integrator comes to your home to install it.
Pros
Turnkey done-for-you solution by Control 4 installers and consultants.
Controls your entire smart home as well as home theater
Sleek aluminum remote has a beautiful high resolution glass touchscreen interface and will be sure to impress at your next dinner party or movie night.
Integrates with your favorite audio streaming services in addition to smart home control.
Cons
Expensive, requires that you buy in to Control 4's mostly proprietary smart home OS
---
---
#8 – One to Watch: YIO Remote Two
Awesomeness Meter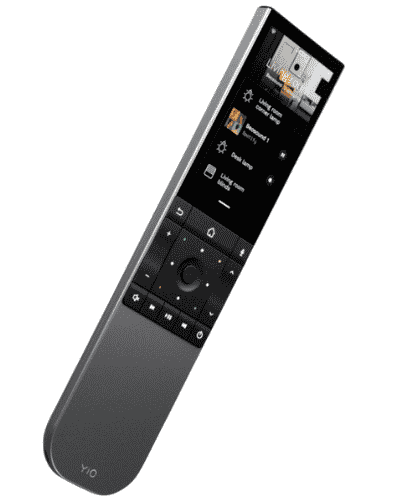 Supported Voice Assistants: Alexa and Google Assistant
The last on my list of the best remotes with voice control is a remote that you can't get your hands on yet.
Formerly named the YIO remote, Remote Two was created by engineer Marton Borzakand in Denmark. It is currently in the development stage, but it is a well-funded Kickstarter project supported by over 1000 backers and over $400K in funding.
This is one of a few soon-to-be-released remotes that I am probably the most excited about. The remote looks and works like the much more expensive system integration remotes—like the one I just mentioned from Control 4 and similar options from companies like Savant and Creston.
It also has a slick-looking touchscreen, which will control all your smart home devices and your home theater. Perhaps the most interesting thing about the remote is that it won't require yet another smart home hub like Sofabaton and Harmony; the company claims it will work with your existing network.
However, the expensive price point is more affordable, and it looks like this remote will be offered to the mass market.
Pros
New well-funded remote looks promising.
Everything about this remote looks and feels premium.
Web browser-based configuration looks intuitive.
Cons
There are just too many unknowns as this product is not available yet.
---
---
Buying Guide
So why would you want to use one of the best remotes with voice control TV remote anyhow? Well, for starters, you won't have to use multiple remotes to get from that blank screen to Netflix.
For me, that number used to be three. I used to have one remote for the TV, another that controlled cable, and another that powered up my soundbar. Being able to control everything using a single voice command is super liberating.
Now, I ask my FireTV to turn on Netflix, and Alexa fires her right up. I can even tune to the latest episode of Game of Thrones by uttering a few words. It really is the ultimate in convenience. And no more hunting around for those silly remotes!
However, there are several key factors that you want to keep in mind when shopping for a universal remote with voice control. We'll review each of the major ones below.
Smart Speaker Compatibility
The most important question you should ask when choosing one of the best remotes with voice control is whether you want it to be compatible with your smart speaker ecosystem.
Do you already have an Alexa or Google Voice device? If so, you can control the devices you configure for your universal remote with your favorite assistant.
However, this is not necessarily a prerequisite. For example, the new Harmony Express remote has Alexa built into it. You do not need to purchase a separate smart speaker. The same goes for FireTV Cube. There are, of course, pros and cons to each option. We reviewed many of the above.
Smart Home Control
The second question you want to ask is whether you want to use your universal remote with smart home devices. Now why the heck would I want to do that, you may be wondering.
Well, controlling your lights with your remote is cool, sure. But the real magic happens when you combine devices with your entertainment experience.
For example, using any of the Harmony Hub-based remotes, you can create activities like "Watch a Movie." Then, when you push a single button on the remote or say,
Alexa, I Want to Watch a Movie, the lights dim, blinds get lowered, and your TV, Dolby surround sound system, and favorite streaming media device all power up in 0rcestration. It's magical!
Convenience Features
If you are buying one of the best remotes with voice control, the next thing you are going to want to think about is what type of convenience features are important to you. I'll list most of the major ones below, and then you can compare them with the products you are considering.
LCD touchscreen vs no touchscreen
Haptic feedback on screen
Backlit buttons
Smart speaker compatibility
Limitations on the number of devices you can control
Ability to control gaming consoles
Ability to control smart devices, such as lights, locks, thermostats, blinds, and more
Activities like "Watch a Movie" to turn on all related components
Search across streaming media services
Broad device support
Mobile app
Ease of set up
Ability to control devices behind closed cabinets and through walls
Battery type – rechargeable vs not
Physical buttons for smart home devices
Battery life on a full charge
Programmable Favorite channels
Ability to control smart speakers like Sonos and HEOS
Control of your favorite streaming players and services like Apple TV, Roku, Tivo, FireTV, Netflix, etc.
If This Then That (IFTTT) Compatibility
TiVo support
Support and Warranty
Z-Wave & Zigbee device compatibility
Number of Existing Remotes To Consolidate
If you have a ton of entertainment equipment and devices, this may concern you. The Sofabaton X1 will let you replace up to 60 remotes, and the Harmony Elite will allow consolidating up to 15 devices. This is a good number for even those who have a lot of components.
However, other remotes allow for the control of fewer devices, so you may need to choose the number of devices you want to control.
Connectivity
All of the best remotes with voice control I recommend require at minimum a Wi-Fi connection. If you have a slow connection, your experience might not be as good. Signals are IR, RF, Bluetooth, and Wi-Fi depending on the remote and the devices you want to control.
---
How To Use Remotes with Voice Control (Basic Steps)
The basic steps for controlling your TV with your voice.
Purchase any of the remotes recommended above.
Follow the manufacturer's instructions to configure the device. There are a ton of helpful video tutorials out on YouTube if you need some handholding (like me).
Issue the appropriate command to Alexa to watch TV, raise and lower the volume, change a channel, tune to a specific movie or program, etc.
Wala! It's that simple! If you get stuck at any step using the best remotes with voice control and want some help, contact me or leave a comment below.
I have experience with all these products except the last two, so don't hesitate to ask. I try to get back to everyone within a few business days.
---
Conclusion
To summarize my top picks for the best remotes with voice control:
If you can afford it, I recommend the Sofabaton X1 because it includes a beautiful remote, lets you control a mix of home theater and smart devices, and has solid support for various Alexa commands. And it will work with Google Assistant too.
The biggest benefit of this voice control TV remote is that it is compatible with Sofabaton's massive device database of 500,000 devices from 5,000 brands. This means that it will support the stuff you buy in the future as well as what you own today.
If you want to control your TV using your voice without much fuss, the Amazon Fire TV Cube is another great option. And the Alexa Voice Remote Pro is the best remote for Fire TV devices.
---
Best Remotes with Voice Control: Your Turn
I hope you enjoyed my review of the best remotes with voice control.
Do you agree that these products are the best on the market today? Perhaps you have heard about another remote that didn't make my list?
Do you plan on buying any of these remotes to control your TV with your voice? If so, can you leave a comment below and let me know? I would love to hear from you.
Also, if you liked this review, would you mind sharing it using any social media buttons on this page? Cheers.
---
You Might Also Like
If you enjoyed reading this article about the best remotes with voice control, you might also like some of my other articles. I'll list a few below.
---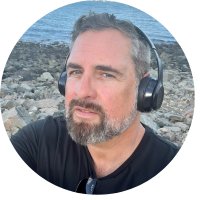 Tim Brennan is a technology blogger and hosts the @TecTimmy YouTube channel. He writes about smart homes at oneSmartcrib, home theaters at UniversalRemoteReviews, and AI in writing at Writeinteractive. A graduate of Northeastern University School of Journalism, he has written about technology for 30 years. Tim lives on the ocean in Nahant, Massachusetts.