In this article, I will comprehensively review the five best remote apps for Sharp TVs that you can get right now.
However, if you are in a hurry and don't have the time to go through this post, here is a quick summary of my top choices:
---
Is There a Remote App for Sharp TVs?
G
iven years of experience in the electronics department, you can never go wrong with a product from
Sharp
.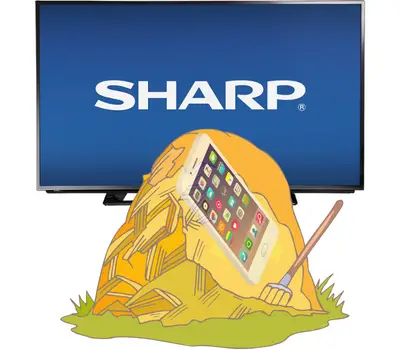 Their latest Sharp AQUOS TV has taken the world by storm and continues to leave every user in awe of its intelligent technology and modern design.
Whether their newest AQUOS or an older model, every Sharp TV has a dedicated remote controller. But, if you have misplaced this remote or some buttons may have stopped responding over time, the solution is likely already in the palm of your hand.
How's that, you say?
While not as cool as some of the best universal remotes for Sharp TVs, you can use a remote control app to help you navigate and control your Sharp TV with your phone.
However, with such great variety on the market, finding the right app for your Sharp TV can seem like searching for a needle in a haystack! But don't worry!
I've done the research and confidently say I have found the best of the best remote apps for Sharp TVs that you can download today.
So, keep on scrolling down for my recommendations! I hope you find them useful.
---
#1 – Best Overall: Broadlink RM4 Pro
💰 Price – Paid (see link below for the latest price)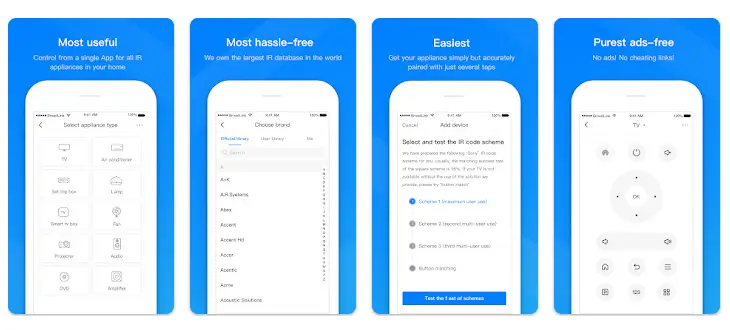 First on my list of the best remote apps for Sharp TVs is this paid Hub and app combo from Broadlink.
Want to control your Sharp TV with a super economical device? If so, Broadlink RM4 Pro is undoubtedly one of the best ways to add IQ points to your house.
Weighing only about 5 ounces, Broadlink Pro is a simple, portable device that is relatively easy to set up thanks to its LED status light. You can install it anywhere as long as it is within the line of sight of your Sharp TV and can be plugged into a wall nearby.
The extensive range of devices Broadlink can support impresses me the most. You name it, from your TVs and fans to garage doors and cameras, to heaters and speakers! You can add anything with a remote to this app and control it easily through your smartphone or voice assistant.
The Broadlink Pro is indeed a pro device when it comes to clever features, specifically automation. This automation feature can help ease your life by doing the hard work of opening and closing the TV. How? Through automation, you can choose when you want to watch your TV and even set the duration of your binge-watching. At the same time, other features, such as its humidity and temperature sensor, can allow you to add further automation to your fans or heaters to enable them to run more efficiently.
Bottom line? Broadlink RM4 Pro is the best remote apps for Sharp TVs (or just any TV) and is worth every penny.
Pros
Reasonably priced.
Can automate a vast number of devices.
Setup is a breeze.
Cons
Needs to be near the device to work properly.
No free version.
---
Where to Get it?
Hub & App with Temperature Sensor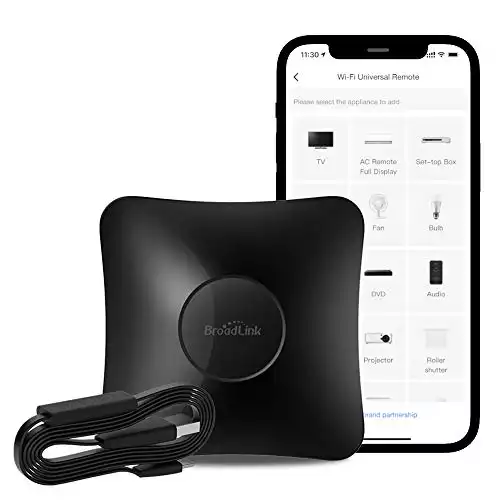 BroadLink RM4 Pro Smart Remote with Sensor Cable
RM4 Pro and HTS2 Sensor Accessory that integrates the functions of temperature and humidity sensors.
Support RF (433MHz) controlled devices such as curtain/shades motor, projector, and light switch; Support 50,000+ IR controlled devices such as TV, STB, Air conditioner, Fan, Video Recorder, DVD, and more; Does *not* work with Bluetooth devices.
Check Price
---
#2 – Best Solid Runner-Up: Universal TV Remote Control
💰 Price – Free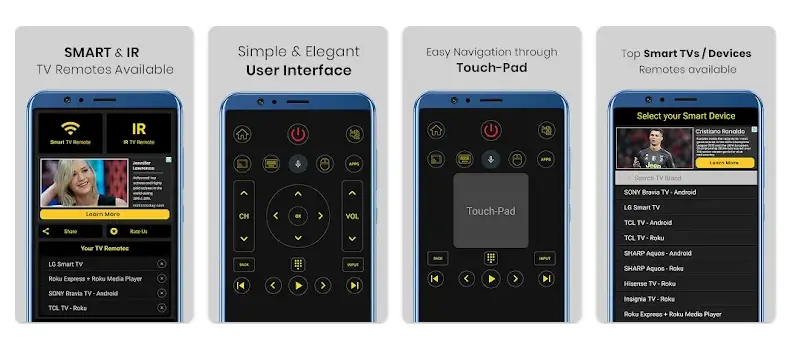 Let's get to one of my favorites, the Universal TV Remote Control app. With over a hundred million downloads, this app provides an excellent way to control your Sharp TV and guarantees that it will continue doing the same.
This app goes hand in hand with nearly every smart device. Be it your Sharp, Hisense, TCL, or Samsung TVs, Universal TV Remote App will surely help you. All you have to do is install the app and scan your system for any nearby TVs. You then type in the pairing code to connect the two. Do these three simple steps, and you are ready to binge-watch your favorite series.
Universal Remote's ability to change the interface according to the kind of smart TV makes it outshine others. Not every remote is similar, and this app surely understands this importance.
However, this Universal Remote is only for smart TVs with a Wi-Fi connection. If you own an older model, it won't work, even with a streaming device. And just like every other app, it is also crammed with ads, but paying a one-time fee can remove them for your lifetime.
Pros
Works with Sharp and every major smart TV brand.
Adapts its interface according to the TV's brand.
Has been downloaded and used by millions of people worldwide.
Cons
Not suitable for older, analog TVs.
Ads can be a bit of a nuisance.
---
Where to get it?
Download for iOS: Apple App Store  |  Download for Android: Google Play
---
#3 – Best Official: Remote for Sharp TV
💰 Price – Free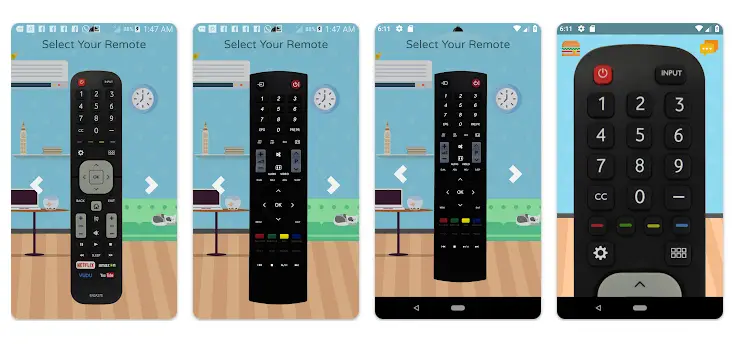 Next on my list of the best remote apps for Sharp TVs is the Office Sharp TV Remote App. Yes, Sharp offers its own official remote app that you can download on your phone as an extension of your TV.
Setting up this app is a piece of cake. If your TV and this remote app are on the same internet network, both will automatically connect without any hassle. You choose your remote using the intuitive app interface, and then you are good to go.
This Office Sharp TV Remote App allows users to change the volume and channels and access other settings and on-screen elements with a touch.
However, it is crucial to note that this Remote App for Sharp TV does not work with every model; hence, I advise you to check your TV's manual first to see if it is supported.
Pros
Connects automatically to most popular brands of Sharp TVs.
Rapid response time.
Acts as an on-screen replacement for your regular remote, so there is no learning curve..
Intuitive interface makes for easy setup.
Cons
Not compatible with every model of Sharp TV.
TV has to be manually turned on.
Only available for Android and not iOS.
---
Where to get it?
Download for Android: Google Play
---
#4 – Most Physical-Remote-Like: Roku TV Remote
💰 Price – Free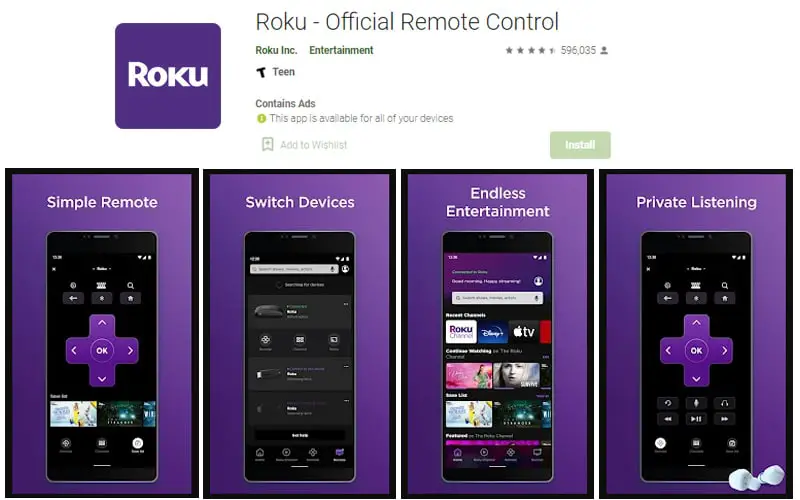 Next on my list of the best remote apps for Sharp TVs is this gem made specifically for Roku streamers.
Roku is another dominating name in the smart app industry. Labeled as one of the best universal remote-control apps, the latest Roku TV Remote is their most advanced and beloved product till now. So, let's shine a light on what makes it worthy of this interest and appraisal.
Whether you have lost your remote or simply prefer something more convenient to control your Sharp TV, this TV Remote got you! With an interface identical to that of a physical remote and its compatibility with other major TV brands like Hisense, TCL, and Insignia, this remote app is another name for ease and comfort.
You must ensure that your Smart TV and Roku App are connected to the same internet, and ta-da! You are all set to operate your TV with your phone.
You can even get an in-ad purchase or monthly subscription to eliminate those annoying pop-ups in the free version.
Pros
Similar interface as a physical remote.
One of the highest rated remote apps I have encountered.
No overly intrusive ads.
Cons
Some customers have complained that the app can be laggy at times.
Some complaints about the app's keyboard not working consistently.
---
Where to get it?
Download for iOS: Apple App Store  |  Download for Android: Google Play
---
#5 – Best Multifunctional: Amazon Fire TV
💰 Price – Free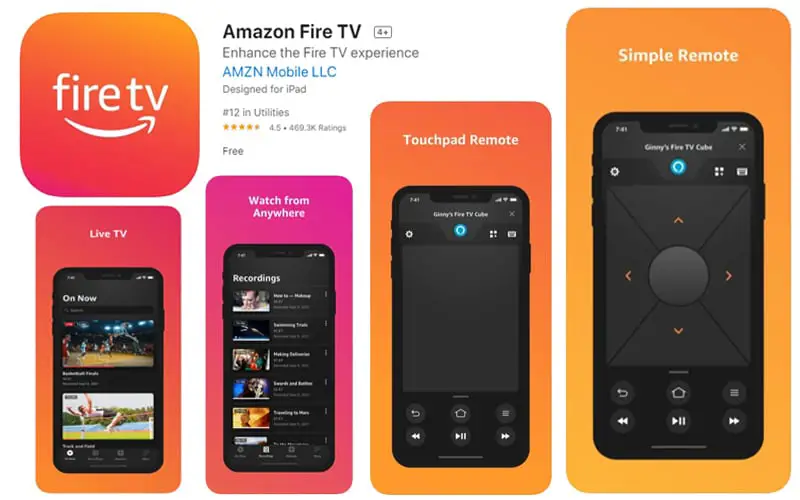 What better way to end this list with a remote app for the all-time famous Amazon Firestick?
If you have a Sharp TV AND an  Amazon Fire TV device, this official Amazon Fire TV app is one of the best apps for Fire TV. It has basic features that are pretty easy to understand, and you can effortlessly control and navigate your smart TV and Fire TV device using the app.
Plus, its dedicated page that shows all the feature icons allows you to handily switch between your games or apps. And let's not forget about its pull-down keyboard and microphone button, which provides a quick means to search any query with your voice using Alexa.
Unfortunately, the app does not feature volume or on/off buttons. Therefore, you might have to return to your physical remote if such a need arises.
Pros
Features a pull-down keyboard and microphone option.
Lets you easily switch between apps.
Simple operation.
Works with Alexa for voice control.
Cons
No volume button.
Can't be used to turn the TV on or off.
---
Where to Get It?
Download for iOS: Apple App Store  |  Download for Android: Google Play
---
Best Remote Apps for Sharp TV: Verdict

When it comes to the best remote apps for Sharp TVs, the numerous options in the market can confuse anyone when it comes to choosing the right app.
Hopefully, you agree with my picks, and one of the above apps will meet your needs.
My top suggestion is the amazing Broadlink RM4 Pro App because of its ability to control so many devices, fast response, and smart home features.
However, Universal TV Remote App can also be a great choice if you want a versatile and advanced free option.
By the way, if you are an Android user, I blog about more of the best remote apps for Android over here. Check it out if you want to see even more options.