Affiliate Disclaimer
As an Amazon Affiliate, we earn from qualifying purchases.
In this article, we provide a Flipper universal remote review. Flipper is a bug button universal remote that is ideal for seniors and the elderly.
It was at a late hour about a month ago that the dreaded call came.
"Timothy, I can't figure out how to get the damn cable to go on again."
Yes, again, and again, and again ?.
Don't get me wrong, I love my mom, but she is probably the least technical person on the planet.
---
This Is Your Daddy's Remote
If I had a silver dollar for every time I got that call, I'd be rich! At least until recently.
Why?
I purchased the Flipper Universal Remote Control for my senior parents.
Since then?
Crickets??! Ah, the sweet sound of silence.
At least on the remote control front.
And so our Flipper universal remote review begins.
📚 Related: 13 Best Universal Remotes for Seniors
---
Shame On You Cable and TV Manufacturers
Why TV and cable companies require anyone, let alone seniors, to have multiple remotes to watch television is beyond me.
I mean, it's not like seniors are looking to control smart home devices or hook up elaborate audio systems to their entertainment centers.
They just want to watch Judge Judy, Wheel of Fortune, Law and Order, and maybe a little MSNBC from time to time.
Sound familiar?
If so, the Flipper Universal Remote control could very well be worth a look for your family.
---
Features
The best thing about this remote from a features perspective is—there aren't many!
This is great news for my mom and yours truly as well.
The remote itself is made of plastic and is super lightweight.
Big buttons are used to control the channel up and down and volume up and down. There is also a mute button on the main panel, which comes in handy when my near-deaf stepdad wants to get in on the conversation.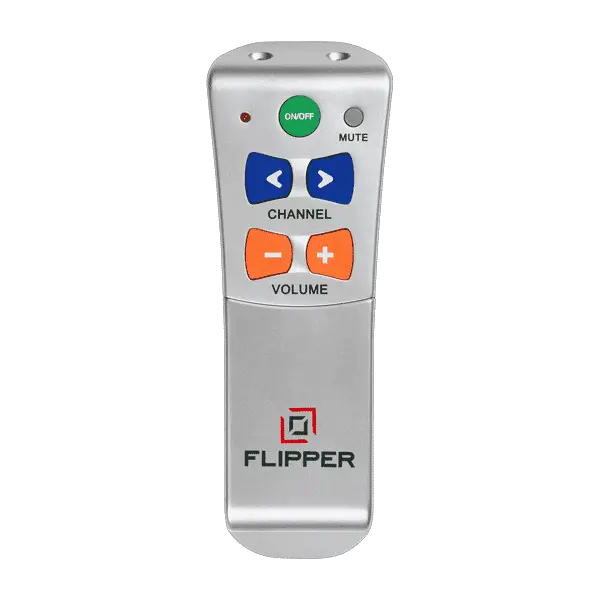 The remote requires two triple-A [AA] batteries that are not included.
A panel on the bottom half of the remote opens to reveal a keypad allow for specific channel selection and programming of devices.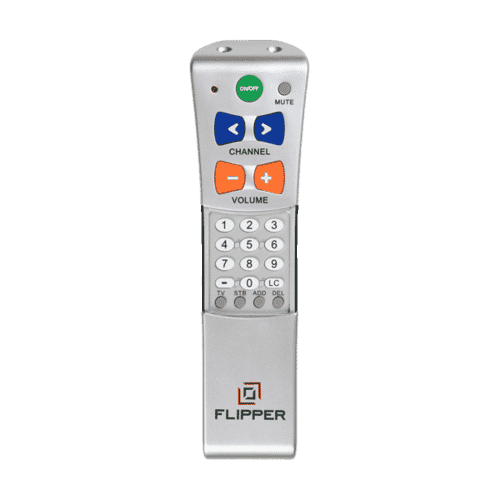 The Flipper is designed to control two devices, and two devices only. These are your TV and Cable [or Satellite] box.
---
Video Review
Thanks to Jessica from techdigg for this helpful video review.
---
Set-Up
Set up is relatively easy but should be accomplished by someone more technically inclined [requires entering of codes].  Flipper has a nice collection of videos on their youtube channel [flipperremote] that steps you through programming and using the remote. A list of supported devices that they support which is available on their website.
Following is a handy video from FlipperRemote that steps you through the process. We are not sure what is up with all of the dislikes.  Thought you did a good job on the video, although you may want to invest in a TV stand.

---
The Bottom Line
Ready for the punchline of our Flipper universal remote review?
This is quite possibly the most streamlined simple remote you can buy, which is what makes it ideal for the older set.
The one thing we feel is missing from the remote, however, is the ability to add a few favorite channels. Most elderly people really watch just a few channels so having quick button access for those channels would be nice.
Still, much simpler than having to juggle between a TV remote and cable remote for the elderly. Moreover, the price is right.
You can see the latest pricing on Amazon at the link below.
This remote has our solid recommendation for the older set.
---
My Flipper Universal Remote Review: Your Turn
So what do you think of this no-frills remote for the elderly?
Are you considering buying one of these for an older person? Do you like the simpler overall design? Or do you think it's too pared down even for an older person?
Please leave a comment below and let us know.
It would be great to hear from you.
Also, if you enjoyed this post, would you mind giving us a share via social media?
If you enjoyed this, you may also like reading some of my other universal remote control reviews in the Blog.