In this article, we'll cut through the clutter to help you decide which Logitech Harmony Remote you should buy for your needs and budget. We explain the key differences and summarize the features and benefits of each remote.
S
ince Logitech
launched its new Harmony Express remote
last month, the company is now
actively marketing
SEVEN universal remotes.  Half of the models now support control of smart home devices and all of them will let you control all popular TVs, soundbars and streaming media systems like Amazon FireTV,
Roku
, and
Apple TV
.
So, which Logitech Harmony remote should you buy? Here is the current lineup:
With all of these options, things can get a little confusing. We're here to break it all down for you. But first, a little history lesson.
---
Harmony Round-Up
All of the remotes above are still actively being marketed by Logitech. There are also a number of older, discontinued models still available for sale on Amazon, often at a discount. You can read our giant comparison of all Harmony remotes (including most of the discontinued ones) right here.
Which Logitech Harmony Remote should you buy?
First, Choose a Collection.
With the introduction of Harmony Express, the Logitech Harmony line now includes three types of remotes:
Infrared-only remotes
Hub-based remotes
Voice remotes
Logitech refers to each type as a "collection."
The Infrared-only Remotes collection lets you control infrared devices (primarily home entertainment) using just a remote control. Active IR remotes are Harmony 350, 665, and 950. The remotes in the Hub-based Remotes collection all come with the Harmony Hub, which is used to translate the IR signals coming from the remote into protocols that other types of devices can understand like Bluetooth and XXX. The active Hub remotes are the Hub, Companion, and Elite. The Harmony Express is the first remote in the company's new Voice Remotes collection. Instead of a Hub, Express relies on a "blaster" to communicate with various devices via the remote and Amazon Alexa.
Then, See if the Devices you want to control Are Compatible.
You can check to see if the devices you own are compatible with Logitech's remotes by searching the Harmony Device Compatibility Database.
You just enter the Manufacturer name and Model Number or Product Name of the device you want to check (for example, Microsoft Xbox One), and then click Search.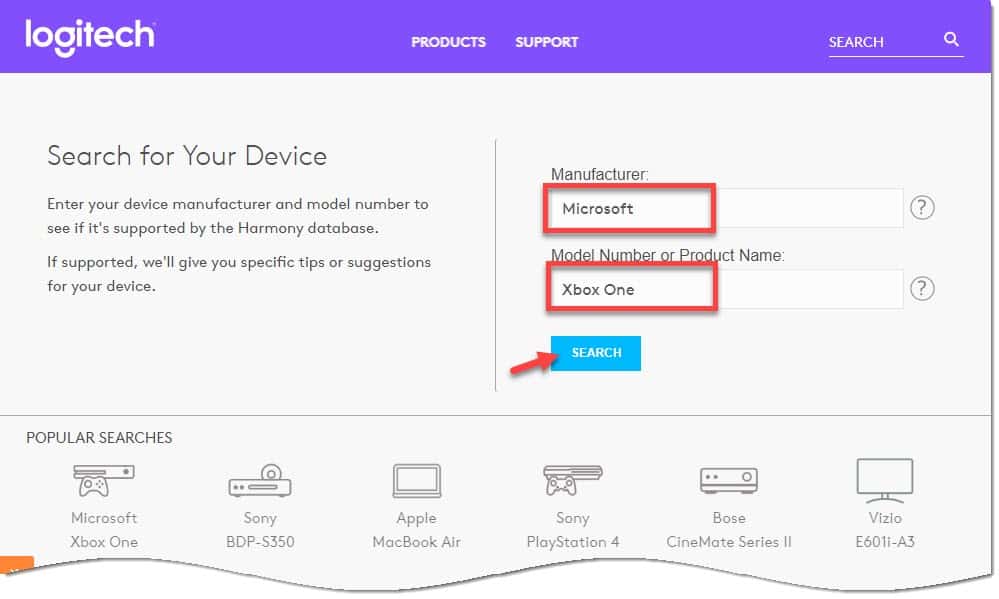 Logitech will then let you know which collection(s) of products will support the device.  Pay special attention to the notes in the below the results.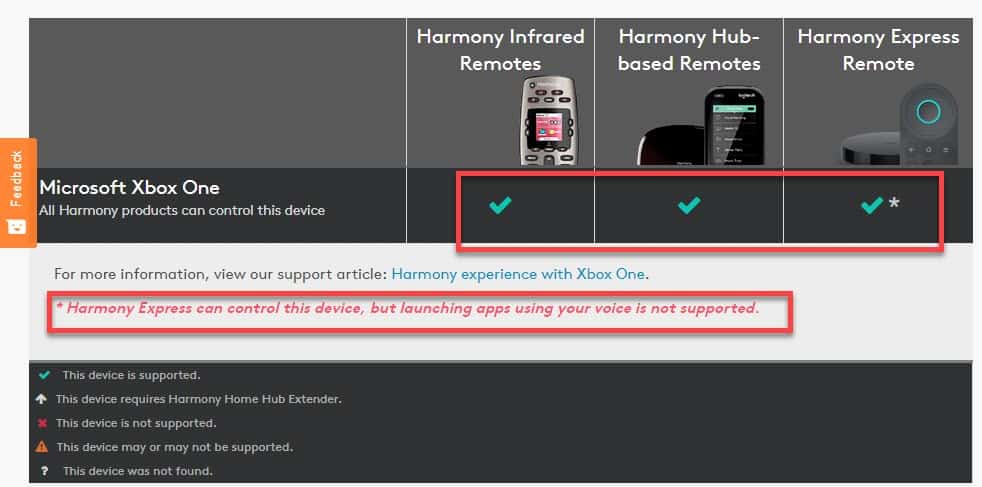 ---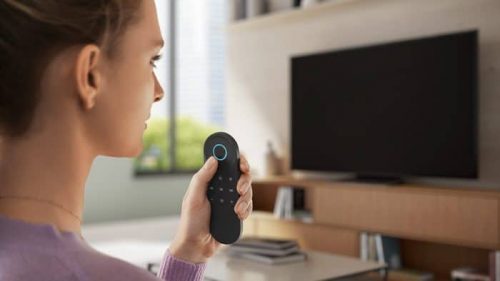 Pick the Harmony Elite if…
You want the best universal remote money can buy.
While other high-end remotes have come and gone (so long, Neeo), the Logitech Harmony Elite endures. This has been our top pick since starting this site over a year ago, and it is still among our top three favorite remotes. The coolest thing about the Harmony Elite is its 1.5 inch (diagonal) color LCD screen that lets you swipe and tap to access, over 50 Favorite Channels, activities, and other controls. The 2nd coolest things is that it will let you consolidate 15 remotes for both home entertainment and smart home devices down to one. You can combine and automate devices using activities like Watch a Movie and you get basic voice control using Alexa or Google Home too.
---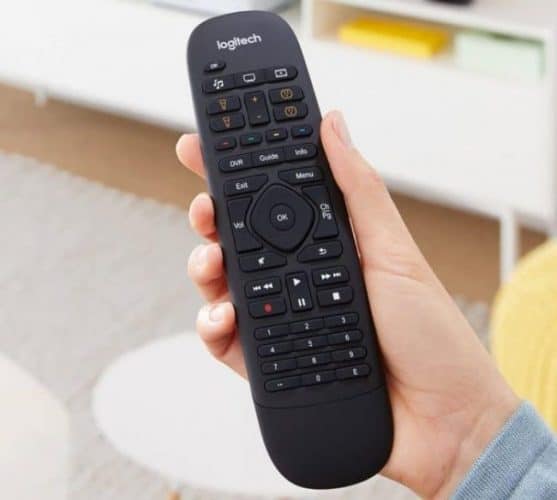 Pick the Harmony Companion if…
You want an outstanding Hub-based remote for less money than the Elite.
Logitech's tagline for the Harmony Companion is "simple home control for entertainment and smart devices."  While there is no LCD touchscreen, some customers prefer a more traditional remote over the smartphone like Elite and over the Express for voice control. The well-designed button layout is an improvement over the previous Harmony Smart Control remote. It will control all of your home entertainment devices plus Sonus, Phillips Hue, Nest, Lifx, Lutron and hundreds of other popular smart device brands. You can also issue basic voice commands using Alexa and Google Home.
Thanks to ModernDad for the helpful video review.
---

Pick the Harmony Hub if…
You want to control all your devices using your phone.
The Logitech Harmony Hub will also let you combine up to eight remotes and countless smart thing apps, but you do it without a remote. Instead, you control everything using your smartphone or tablet.  You essentially get all of the benefits of the Harmony Elite and Companion but without the remote. If you don't like the idea of having to open an app to control your TV, you could potentially buy a dedicated handheld tablet for this purpose. My friend does this and he using a small iPad tablet to act as mission command for his entire home. You also get Alexa and Google Home for voice control.
---
Pick the Harmony 950 if…
You want to control home entertainment, NOT smart home tech.
Like the Harmony Hub is the Elite without the remote, the Logitech Harmony 950 is the Elite without the Hub.  Sort of. The 950 remote is nearly identical to the Elite, but you can only use it to control your IR devices (i.e., home entertainment).  You cannot use it to control smart devices. The 950 is a good choice for home theater rooms and as an add-on remote for existing Hub users. Yes, you can essentially pair the 950 with a Hub to make an "Elite." Confused?  Check out our comparison of Harmony 950 with the Elite if you want to learn more.
---

Pick the Harmony 665/650 if…
You want to combine up to 10 entertainment remotes with a mini color LCD screen.
The Harmony 665 delivers great value for an all-in-one remote that lets you consolidate up to eight devices in your media arsenal. It will not let you control your smart devices and it is not compatible with the hub or blaster remotes.  However, it is compatible with Harmony's device database of 225,000 devices from over 5000 brands. Customers who own this remote tend to rave about it.  If you can get the Harmony 650 over the 665 you can get an even more stylish-looking remote for the money. It comes in a slick looking metallic gray which looks slick with the red background of the touch screen.
---
Pick the Harmony 350 if…
You want a no-frills budget remote to consolidate eight IR remotes.
The Harmony 350 is a good option if you really need to save a little money over the 650. The difference in price between the 650 and the 350 makes going with the 650 a no brainer really, in our opinion.  However, if your budget caps out at the 350 price point, then you can still get a solid universal remote that will let you control up to eight devices. You can also program up to five favorite channels. It even comes with 2 AA batteries.
---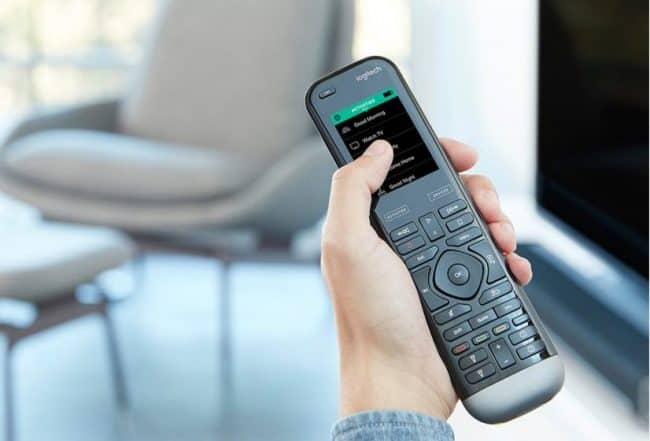 Pick the Harmony Pro if…
You have a complex set up and require professional installation.
The Harmony Pro remote itself is a slightly upgraded version of the Harmony Elite. The remote has a gray band around the bottom, you get some additional hardware and a few additional capabilities. The main difference is that when you purchase the Pro remote, you must do so from a professional installer. The certified and approved-by-Logitech installer then comes to your house and sets everything up for you.  This is recommended only if you have a complex setup, want a turnkey solution, or if you have a little extra money to burn.
---
Which Harmony Remote Should You Buy?
Alright, so it's time to ask: Which Harmony remote should YOU buy?
Do you plan to go with an IR, Hub-based, or voice control remote?  Is voice control an important factor in your decision?  Or is budget more important?
Please let us know by leaving a quick comment below.
Also, if you found this article helpful, would you mind sharing it on social media using any of the links at the top and bottom of this page?  It really helps us out a lot. Thank you!
---
You Might Also Like
If you enjoyed this review, you might also find some of our other reviews useful:
Logitech Harmony Comparison Chart: Epic 2019 Guide/Infographic
Harmony Elite vs Companion vs Hub vs Smart Control [Interactive Comparison Guide]
Logitech Harmony 950 vs Elite: Review and Interactive Comparison Table
Harmony Express Review: Logitech's New Voice Remote Puts Alexa in Control