With Black Friday 2023 in the rearview mirror, I am now actively tracking the best Logitech Harmony Cyber Monday deals and discounts for 2023.
The 'Ultimate' Logitech Harmony Cyber Monday Deals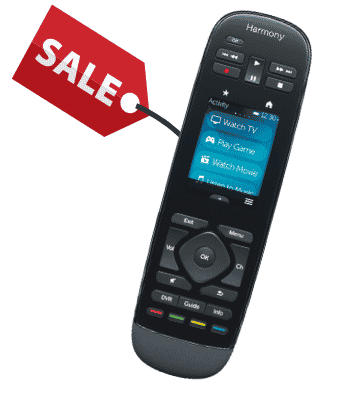 Cyber Monday this year is on Monday, November 29  – although there are and I'm sure there will continue to be some great deals on Harmony remotes right up through Christmas.
Prices on Harmony remotes have certainly been increasing since Logitech said it would stop making Harmony remotes but keep supporting them well into the future. However, I'm sure Amazon and 3rd party sellers will still be offering some good deals on Harmony remote controls on Cyber Monday.
So the good news is that you can likely reap serious savings on the Harmony Elite, Companion, Ultimate, Hub, Smart Control, and 950 (while dwindling supplies last)! There are some great deals to be found in renewed remotes right now.
Last year, Cyber Monday pricing on Harmony Elite and Companion was the lowest I have seen EVER! Since Logitech announced it is will no longer make these remotes but continue to support them, I've seen the prices go through the roof for some models. It will be interesting to see how far they come down at these pivotal sales.
But there's no telling whether Amazon will offer these deals, so bookmark this page and stick with us to get the scoop on the latest pricing!
---
Logitech Harmony Cyber Monday Deals Tracker
Dynamic Price Comparison Chart
The following table shows the latest Logitech Harmony Cyber Monday deals pricing on Amazon. The table gets updated dynamically via direct integration with Amazon's API.  This is a great way to track whether products will go on sale early, so bookmark this page!
Top Pick
Logitech Harmony Elite Remote Control, Hub and App, Compatible with Alexa (Renewed)
Logitech Harmony 880 Advanced Universal Remote Control (Discontinued by Manufacturer)
Logitech Harmony 700 Rechargeable Remote with Color Screen (Black) [Discontinued by Manufacturer]
Logitech Harmony 650 Infrared All in One Remote Control, Universal Remote Logitech, Programmable Remote (Silver)
Logitech Harmony 350 – Simple-to-Set-up Universal Media Remote for 8 Devices
Logitech Harmony Hub for Control of 8 Home Entertainment Devices
Last update on 06/03/2023 / Affiliate links / Images from Amazon Product Advertising API
Pro Tip: Click the 'See It' button to see up-to-the-second deals pricing at Amazon.
Amazon often puts some products on sale in the days before the event and I see a few deals up already.
I will also cover some additional remotes below.
---
Logitech Harmony Elite
The Logitech Harmony Elite, Logitech's "best-of-the-best" flagship remote for home users was steeply discounted last year. However, its price has been climbing since Logitech announced it will no longer make, but still support, this remote.  All Harmony remotes are quickly becoming collector's items but at least the company has said they will continue to support and update the existing Harmony line.
If you are confused about how Elite stacks up to the other Logitech Harmony Remotes, check out my giant Logitech Harmony Comparison Chart.
---
Logitech Harmony Touch
The price for the Harmony Touch has also been up and down in recent weeks. The Harmony Touch is very similar to the Harmony Ultimate.  I wrote some blog posts about the differences between Elite vs Ultimate if you are interested. Amazon currently has deals on a new Harmony Ultimate Home but you can get a Harmony Ultimate Home Refurbished if you want to save some additional money.
Check Price at Amazon
(affiliate link)
---
Harmony Companion
The Harmony Companion is a great budget option if you're looking for a full featured remote with many of the same features as the Elite and Ultimate.
This will allow you to control your home theater as well as your smart home devices, and it provides integration with both Alexa and Google Assistant for voice control.
The obvious main difference is that the Companion doesn't have an LCD touchscreen. However, you can use it with the Harmony app and Alexa for voice control.
Check Price at Amazon
(affiliate link)
---
Logitech Harmony Smart Control
Smart Control customers love this remote.  I literally just had a guy on Reddit tell me that he thought "all other remotes are crap" compared to this. Redditers are funny. LOL.
I have not explicitly tested this yet myself but plan to do so in the near future as it is having a resurgence in popularity as of late.
The pros as far as I can tell:  the remote is smaller and thinner than the others and it lets you control up to eight devices with Alexa or your smartphone.  A common complaint is that there are only three main activity buttons, which is not a lot for today's complex entertainment setups.
Anyhow, more on this in the near future.
Check Price at Amazon
(affiliate link)
---
Harmony Hub
If you just want a way to control multiple devices using your smartphone and Alexa [without an actual all-in-one physical remote] then the Logitech Harmony Hub is a good affordable way to go.
This is a great budget option if you want to control your smart home and home entertainment devices using your phone.
It is the best universal remote control smartphone app out there. You can read my full review of the Harmony Hub here.
Check Price at Amazon
(affiliate link)
---
Logitech Harony Cyber Monday Deals 2021 – What Do You Think?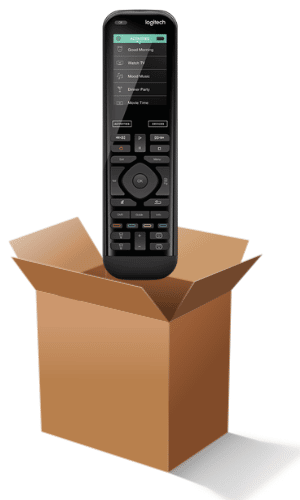 So what do you think about these Logitech Harmony Cyber Monday Deals for 2021?  Are you also planning to wait for the main event this year to purchase a Harmony remote?
There are currently some great deals on refurbished items and also bundle deals at the time of this writing. The Elite is offered at a deep discount too.
Do you plan to purchase any of these smart remotes?  Do you plan to use them with Alexa?
I would love to hear from you. Please leave a comment below and let us know.
Happy Cyber Monday! Happy Thanksgiving!
---
You Might Also Like
If you liked this article, would you mind sharing it using the colorful social media buttons at the top of this page?
I hope you will also enjoy some of our other articles: